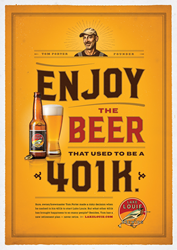 As a partner, Shine United has helped create a voice for Lake Louie Brewing, which is especially important now, as the market has exploded in recent years.
Madison, Wisconsin (PRWEB) January 31, 2017
Shine United, a Madison, Wisconsin-based advertising and digital agency, has partnered with Lake Louie Brewing to create a three-part poster series that is being featured by Communication Arts Magazine. The poster series tells the captivating story of brewery founder Tom Porter and the humble beginnings of Lake Louie Brewing. Featured on the Communication Arts website in December 2016, the posters will again be featured in the printed magazine exhibit due to publish in spring 2017.
Tom Porter launched Lake Louie Brewing during a self-described midlife crisis. After spending over 20 years as an engineer, Tom was looking for a big change in his life. With a few years of home brewing experience, Tom wrote a business plan, cashed in his 401k, and converted a metal storage shed on his property into a three-barrel brewery. Today, Lake Louie Brewing has expanded to a 15-barrel brew house, and in 2016 Lake Louie Brewing produced seventeen different varieties, five being year-round staples. Shine United created the poster series to highlight and honor the man behind the beer.
"Shine was able to capture the hard work, sweat and countless beverages that went into creating Lake Louie Brewing," said Tom Porter, Lake Louie Brewing founder. "As a partner, Shine United has helped create a voice for Lake Louie Brewing, which is especially important now, as the market has exploded in recent years."
The talented design team at Shine United designed the poster series to celebrate the story of Tom Porter. Using honest headlines such as "YET ANOTHER MIDLIFE CRISIS FUELED BY ALCOHOL," "ENJOY THE BEER THAT USED TO BE A 401K," and "WHO KNEW THAT BLOOD, SWEAT, AND TEARS COULD BE SO REFRESHING?," the three posters give insight into the brewery's unique path to success. Incorporating the brand colors and elements and crisp portrait photography of Tom Porter himself, the posters illustrate the dedication behind Lake Louie Brewing.
"Lake Louie Brewing can accurately be described as the culmination of Tom Porter's life work," said John Krull, partner and creative director of Shine United. "We needed these posters to capture that personality and pride of Tom. Between photography that highlights Tom's playful expressions and the humorous copy, a viewer can truly grasp the one-of-a-kind path that led Tom to become a master brewer."
Lake Louie Brewing, LLC
Lake Louie Brewing is located on the shores of beautiful Lake Louie (actually a ¼-acre pond) just outside of the village of Arena in southwest Wisconsin. Lake Louie Brewing has been producing premium-quality, handcrafted brews, sold in bottles and kegs throughout the entire state of Wisconsin, since January 2000. Give a glass or bottle of Lake Louie a try. You won't be disappointed.
Shine United
Shine United is a $41 million advertising, design and interactive agency located in Madison, Wisconsin. The privately held company's client roster includes national brands such as Harley Davidson, LaCrosse Footwear, Wisconsin Cheese, GORE-TEX® Running Footwear, Amazon.com, Winston Fly Rods and Kohler Co. Shine is an environment where creativity, brilliance and teamwork are allowed to flourish – part of the reason we were named one of the best places to work by Outside Magazine the past three years.
Learn more at ShineUnited.com. Shine On.