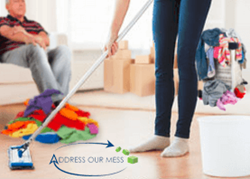 Address Our Mess is working with seniors in houses, apartments, and assisted living to make sure their homes are cleaned up.
Baltimore, MD (PRWEB) January 31, 2017
Address Our Mess is offering cleanup services for senior citizens living in hoarded and cluttered homes.
Senior citizens are more likely to suffer from hoarding than any other age group. They often live not only with their own clutter, but also with clutter from children, grandchildren, and spouses. A lot of these belongings usually have sentimental attachments that make them hard to let go of.
Even if they're not attached to the belongings, physical limitations often lead to senior citizen clutter. Limited mobility due to illness or weakness prevents them from keeping up with their usual household tasks. Normal organizational and cleanliness routines tend to get ignored, which leads to a build-up of clutter.
Hoarding is especially dangerous for the elderly because it presents tripping hazards, falling hazards, fire hazards and more dangerous obstacles. If something happens to a senior citizen in a hoarded home, they may not be able to call for help or emergency responders may not be able to access the home to help them.
Address Our Mess is working with seniors in houses, apartments, and assisted living to make sure their homes are cleaned up and they can function normally. Whether seniors are hoarding because they can't let go or because they aren't as mobile as they used to be, Address Our Mess is here with a team and a case manager to help them through the process.
Teams set out with the primary goal of working with the homeowner to make them feel comfortable. Together they decide what should be kept, donated, and thrown away. Address Our Mess hauls away all trash, handles storage transportation, and takes all donations to a charity of the customer's choice and in the customer's name so no heavy lifting is required. After cleanout, the home may also need a deep cleaning that takes care of floors, walls, surface areas, and any gross filth or waste.
It's important for senior citizens to take care of a hoarding situation before it becomes an emergency and they get hurt. Address Our Mess ensures their homes are returned to a safe, clean, and livable condition so that their environments are no longer a danger.
About Address Our Mess
Address Our Mess is a professional specialty cleaning company that handles hoarding, clutter, sorting, removal, and large organizational projects. The company has a mission to help give a fresh start to as many people as possible.