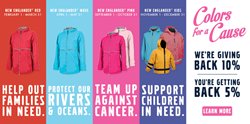 For a family-owned company like Charles River Apparel," says Lipsett, "having the opportunity to give back allows us to think beyond what we sell."
SHARON, Ma. (PRWEB) February 01, 2017
Charles River Apparel is pleased to announce the Colors for a Cause Program, a Charles River Cares™ initiative.  Colors for a Cause leverages the brand;s number one selling style, the New Englander ®, to help create awareness and raise funds for national and local charities.
Charles River Apparel is a family owned company, known for creating a tradition of giving back. It started with the Be Pink Proud campaign, honoring the memory of beloved family members and has expanded throughout the years.
"Our mission is to create a community and environment that is passionate about giving back," says Barry Lipsett, CEO/owner of Charles River Apparel.  "For a family-owned company like Charles River Apparel," continues Lipsett, "having the opportunity to give back allows us to think beyond what we sell."
The program launches on February 1st with our Buy New Englander Red to support families in need. With every purchase of the New Englander Red between February 1-March 31st, Charles River Apparel will contribute 10% of the sales to help families in need.
It will be followed up with New Englander Wave to protect our rivers and oceans (April-May 31), New Englander Pink to team up against cancer (September 1-October 31) and New Englander Kids (November 1-December 31) to support children in need.
In addition to giving back to charities, we are giving back to our customers. For every New Englander (cause/color) sold during the campaign, we will give 5% back to our customers. "It's our way of saying thank you for supporting our brand and our mission," says Lipsett.
To learn more about Charles River Apparel and Colors for A Cause, visit https://charlesriverapparel.com/charles-river-cares/