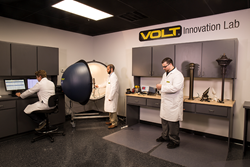 For professional lighting installers, products that make the work easier and faster have a huge impact on profits.
Tampa, FL (PRWEB) January 31, 2017
VOLT® Lighting, leading factory-direct lighting manufacturer, announced today the milestone of launching over 100 new products in 2016. This achievement follows a similar announcement a year ago, noting over 100 new products in 2015. This number of new products in two years would be an impressive accomplishment for any company, and in part, explains the continued success of this factory-direct powerhouse.
Michael Breedlove, Director of Innovation and Manufacturing, describes the direction of the VOLT® product development program. "Our success is largely based on listening to our customers and responding to their requests for new products and improvements. Some ideas make it into production, others don't. Our intention is not to flood the market but rather to focus our efforts on products that bring new value to our customers – to truly address their needs."
The needs that Breedlove describes include lower prices, ease of installation, more variety of styles, and improved performance. Also driving the development, is the evolving nature of LED lighting technology.
Considering the fact that VOLT® already sets some of the lowest prices for professional-quality lights, it is quite an achievement to lower them further. One way this was done was with the introduction of high quality aluminum to their mostly-brass product line. These aluminum fixtures are coated with an extremely durable powder-coat finish. Customers get the benefits of the lower cost aluminum (in a variety of colors) with nearly the same durability as cast brass. Many of the new products in 2016 were aluminum versions of popular VOLT® brass lights.
VOLT® addressed the requests for more product styles with the introduction of a new line of decorative path and area lights. These include contemporary and ornate types that make stylish statements in the landscape. Perhaps the most impressive additions to this category are VOLT® Bollards – illuminated towers with intricate scrollwork.
Jesse Harper, Product Development Manager, comments on new products that address ease of installation; "While the typical homeowner may do a lighting installation once, professionals make their living doing dozens of installs every year. For professional installers, products that make the work easier and faster have a huge impact on profits. Our team is leading the industry in making these improvements. We have several new inventions to address the issue."
"One of these is the Clamp Connect™ series of landscape lighting transformers. These new transformers implement easy-to-use clamps to attach field wires in seconds. Compare that to typical terminal blocks that require several minutes for each connection. In addition, the clamp connections are far more secure than with older blocks."
VOLT® extended the use of this clamp technology to several other patent-pending inventions including the Pro Junction Hub™ and the Pro Micro-Junction Direct Burial Connector™. Both of these new products make installations easier and faster.
Finally, another group of products demonstrate improved performance due to advances in LED technology. These span all product lines, and include lights with LEDs integrated into the fixture, as well as fixtures designed to accept replaceable VOLT® LED lamps. These new products have improved light output and efficiency compared to previous models.
Breedlove summarizes, "Our customers – both homeowners and professionals – can't afford to waste their resources. That's why we work hard to create time- and money-saving solutions, and to continue improving the performance and longevity of our products. Considering the success of these efforts, I wouldn't be surprised if one year from today we announce another 100 new products."
About VOLT® Lighting
VOLT® Lighting, leading factory-direct lighting manufacturer, receives high ratings and glowing reviews for its products and services. With a focus on superior execution, aggressive product development, and best-in-class customer service, the company dominates the e-commerce lighting space. More information at http://www.voltlighting.com.