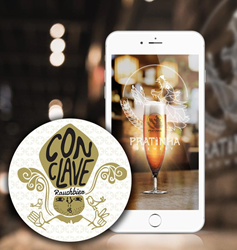 When Pratinha's art department teamed up with Daruma Tech to create AR animations from our packaging, the results were amazing.
Boca Raton, FL (PRWEB) January 31, 2017
Craft beer lovers now have instant access to the latest information from one of Brazil's favorite craft breweries through a custom, multilingual mobile app created through a partnership between Brewers Marketing and Brazilian brewery Cervejaria Pratinha.
The app represents a major milestone for both companies: It is Brewers Marketing's first international collaboration, and the English/Portuguese language app is the latest step in Pratinha's expansion to both a second brewery in Brazil and to its first US brewery in Palm Beach County.
Pratinha is known in Brazil for its cutting-edge, experimental brews that celebrate sustainable local ingredients and flavors, and their app—which focuses heavily on augmented reality (AR), was specifically designed to reflect the edgy vibe of the brand and its adventure-seeking customers. "AR is like reality, only better," explained Susan Erickson of Brewers Marketing. "For instance, if you have the Pratinha app and point your smartphone's camera at one of their coasters, you'll see the image appear to come to life or get extra information on specific brews. It's a great way to engage and educate customers, and is still fresh and surprising enough to be interesting and fun for millennials."
Pratinha CEO Jose Virgilio Braghetto agrees. "It just looks super-cool—and since I was originally in computer animation and technology, I'm not that easily impressed. But when our art department teamed up with Daruma Tech to create AR animations from our packaging, the results were amazing."
The app also uses smartphones' directional data to point thirsty users to the nearest retail sources of Pratinha's brews and regularly delivers them information on the brewery's latest offerings and special events. "This gives us a versatile way to engage our core customers in real time and give them an experience they won't get anywhere else," Braghetto said. "And best of all, updating information in the app is really fast and easy on our end. All we have to do is input it online and our users will see it in real time—no delays from having to reload the app to the app stores."
Brewers Marketing is a privately held software design firm based in the FAU Research Park in Boca Raton, Florida. Its mission is to address the needs of the fast-growing craft beer market by providing craft brewers with branded customer engagement applications incorporating both cutting-edge technology and designs focused on the unique logistical and human needs of each client.
For more information, contact Susan Erickson at 561-206-6291.