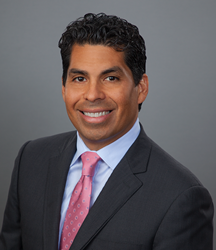 I am very excited about joining such a talented and innovative group!
Tampa, FL (PRWEB) February 01, 2017
Valet Waste recently announced that effective January 9, 2017, Henry Toledo joins the company as its new Chief People Officer. Henry will be responsible for providing leadership in the development and execution of Valet Waste's human capital strategies, including talent acquisition, learning and development, talent management, organizational development, total rewards and culture.
"As we continue to strive to be better tomorrow than we are today, we are very excited to have Henry join our team," said President & Chief Executive Officer, Shawn Handrahan. "Not only will Henry have an impact on the management of our over 4,000 associates, but I am confident that with Henry's energy and innovative approach we will reach our goal of continuing to develop our associates and our company culture."
Henry has over 24 years of diverse experience in human resources and talent management, most recently as talent, performance and learning leader at Citigroup Inc. and general manager and HR services executive at ADP Inc. Henry's unique background in having led almost every HR function during his career, while also having the experience of running a business, make him a great addition to the senior executive team.
"I am very excited about joining such a talented and innovative group," said Henry Toledo. "I lucked out with Valet Waste. In addition to having some fun and approaching HR differently, I am confident that our people function will drive tremendous value to both our associates and our clients."
About Valet Waste:
Since 1995, Valet Waste has been the multifamily housing industry's leading provider of five-nights-per-week doorstep trash and recycling collection. It currently services over 475 management companies and owner groups throughout the multifamily housing industry that represents over 3.4 million units nationwide. Valet Waste offers the most requested resident amenities and services along with unparalleled and proven customer satisfaction. Its fully insured and uniformed professional valets collect waste and recyclables from residents' doorsteps and manage multifamily communities' on-site trash issues by streamlining waste from the doorstep to the dumpster with their proven systems. Valet Waste is a portfolio company of the Private Equity Group of Ares Management, L.P. (NYSE: ARES) and Harvest Partners, LP.