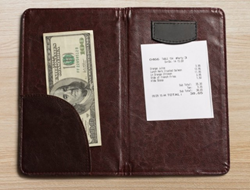 One in four would leave the industry if tips were eliminated
Providence, R.I. (PRWEB) February 02, 2017
Research conducted by professors with Johnson & Wales University concludes that the tradition of tipping servers is not going away anytime soon despite its recent elimination at several high-end, high-profile U.S. establishments.
Restaurant operators and patrons have frequently weighed in on the debate surrounding tip elimination which has also been tied closely to the subject of an increased minimum wage. However, Brian J. Warrener, CHE, associate professor and Paul Bagdan, Ph.D., CHE, professor with JWU's School of Hospitality recognized that the opinions of servers and their managers – those most-impacted by the potential demise of the tip – were neglected from the conversation. Recently, the professors surveyed food and beverage industry owners, manager, and employees to obtain their input on this developing trend. They found that the majority of respondents to their survey had a strongly negative impression of the elimination of the tipped wage.
"We can sum up our research with three quick findings," Bagdan notes. "Most of industry is against it, most of the employees are against it, and legislation appears to be against it."
Warrener notes that while owners of fine dining establishments in major metropolitan cities have eliminated tipping, it's not a trend that will be making its way across the nation any time soon. "Most signs are trending towards it being slow to progress," he says. Most notably, the change in the administration, resistance from those in the industry, and hesitation among the general public are impacting the potential for change to happen in the near future.
The research revealed:

The majority of respondents, 77%, had a "strongly negative impression of the elimination of the tipped wage." About 65% of the respondents were "extremely unfavorable"
89% of tipped employee surveyed "really hate" the idea of eliminating tips
72% of the mangers surveys "hate" the idea
One in four respondents said they would stay if tips were eliminated in their establishment while 40% or respondents indicated they would leave and seek an establishment with tipping
One in four would leave the industry if tips were eliminated
Nearly half of the respondents indicated the quality of service they would provide would diminish if they were not working for tips
3% of the respondents said they would improve the level of their service if they were not working for tips.
Founded in 1914, Johnson & Wales University is a private, nonprofit, accredited institution with more than 15,000 graduate, undergraduate and online students at its four campuses in Providence, R.I.; North Miami, Fla.; Denver, Colo.; and Charlotte, N.C. An innovative educational leader, the university offers degree programs in arts and sciences, business, culinary arts, design and engineering, education, health and wellness, hospitality, nutrition and physician assistant studies. Its unique model integrates arts and sciences and industry-focused education with work experience and leadership opportunities, inspiring students to achieve professional success and lifelong personal and intellectual growth. The university's impact is global, with alumni from 123 countries pursuing careers worldwide. For more information, visit http://www.jwu.edu.
MEDIA CONTACT: Miriam Weinstein, 401-598-1157, miriam.weinstein(at)jwu(dot)edu.