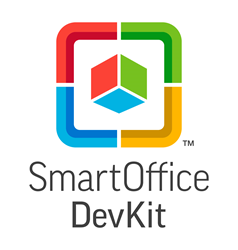 Our enterprise version of SmartOffice makes it easy for an MDM, EMM or EFSS to incorporate these critical work functions into their overall offering for customers. That is why we refer to SmartOffice as a 'securable alternative' to MS Office for mobile."
San Rafael, CA (PRWEB) February 02, 2017
Artfiex Software, developer of SmartOffice, the leading mobile Office productivity app, will be an exhibitor at the upcoming RSA Conference 2017 USA being held at the Moscone Convention Center in San Francisco, CA from February 12 -15. Artifex and SmartOffice will be located in booth #S1948 located in Moscone Center's South Hall.
SmartOffice is a mobile app that enables people to view, edit, create, share, present and print Microsoft Office documents (Word, Excel and PowerPoint) on their mobile devices, and works on the leading mobile platforms, smartphones and tablets. With over 350 million downloads, the SmartOffice app's high quality document representation and small file size (one-fiftieth the size of MS Office 365 Mobile) make it a perfect fit for today's growing mobile workforce. RSA Conference is a premier event where the world gathers to discuss security and the latest thinking and technologies related to securing information in the digital age.
"Maintaining data and document security in today's increasingly mobile work environment is critical to today's enterprise and organizations," said Miles Jones, President of Artifex. "At the same time, employees of the secured organization still need to conduct their work, which means they need to access, view and edit their Office documents while using mobile devices. Our enterprise version of SmartOffice makes it easy for an MDM, EMM or EFSS to incorporate these critical work functions into their overall offering for customers. That is why we refer to SmartOffice as a 'securable alternative' to MS Office for mobile devices."
The SmartOffice enterprise SDK (SmartOffice Dev Kit) is a customizable way to secure enterprise document workflow, editing and management while empowering your mobile workforce. It fully integrates with an organization's EFSS, MDM or EMM environment, enabling enterprise IT to distribute secure and controlled document viewing and editing across multiple platforms. In addition, SmartOffice's controlled access permission tools extend down to the user or document level, further aiding IT departments' ability to prevent data leakage. The result: SmartOffice provides a safe way for mobile users to work with MS Office documents regardless of device. Enterprise information is secured while employees are empowered to be productive. More information about SmartOffice DevKit is available on the SmartOffice web site.
"When it comes to providing MS Office document viewing and editing capabilities within a secured mobile platform environment, SmartOffice has several advantages vs. Microsoft Office 365 Mobile," said Ted Simon, Vice President of Marketing for Artifex. "First and foremost, SmartOffice offers better security as it is designed to integrate within the platform rather than require a user to leave the secure environment to view or edit a document. Second, at 1/50 the size of MS Office 365 (21 MB vs. just under 1GB), SmartOffice's smaller size is better suited for mobile devices. Third, SmartOffice provides PDF viewing and annotation capabilities, something MS Office does not offer. And, finally, SmartOffice is fully functional without Internet access; a user can access and work on files natively with no Internet dependency. For this combination of reasons, SmartOffice makes tremendous sense for mobile platform companies as well as enterprises looking for a securable document viewing/editing tool for mobile deployment."
SmartOffice is available in both a SmartOffice branded and customizable enterprise SDK versions (SmartOffice Dev Kit). Organizations interested in SmartOffice can visit and demo the product at the Artifex booth at RSA Conference 2017, booth #S1948, Moscone Center. Or, you can contact the company at sosales(at)artifex(dot)com.
##############
SmartOffice
SmartOffice by Artifex is a leading Mobile Document Productivity Suite that puts the power to view, edit, create, print, share and convert documents to PDF at your fingertips. Covering all major document formats (Word, PowerPoint, Excel, PDF, plain text and major image file formats) on all mobile devices and a variety of operating systems, SmartOffice increases mobile productivity while delivering the best conformance with Microsoft Office document standards in the market today. SmartOffice can be downloaded from major app stores and is also available on a variety of leading Enterprise File Synchronization and Sharing, Mobile Device Management and Enterprise Mobile Management platforms. For more information, please visit our SmartOffice web site.
Artifex Software
Artifex Software is a trusted partner and provider of core technologies for document handling and management. For over 20 years, we have provided premiere software products to top level global customers.  The list of global customers/partners who depend on Artifex technology comprises a who's who in technology products and services, including HP, EMC, Kyocera, Ricoh, Adobe, IBM, Intel, Xerox, Google, Morgan Stanley, Ernst & Young, Dropbox, BlackBerry, Siemens, LG Electronics and many more. Our major product offerings include SmartOffice (mobile document productivity suite for viewing, editing, creating and printing MS Office documents and related files), Ghostscript (PDL Interpreter that is an industry leader in PDF, PostScript, PCL, and XPS rendering and conversion) and MuPDF (lightweight PDF and XPS interpreter that offers all the interactive features for PDF). Artifex is headquartered in San Rafael, CA, with offices in North America, Europe and Asia. For more information, please visit our website at http://www.artifex.com.
About RSA Conference
RSA Conference is the premier series of global events where the world talks security and leadership gathers, advances and emerges. Whether attending in the U.S., the EMEA region, or the Asia-Pacific region, RSA Conference events are where the security industry converges to discuss current and future concerns and get access to the people, content and ideas that help enable individuals and companies to win, grow and do their best. It is the ultimate marketplace for the latest technologies and hands-on educational opportunities that help industry professionals discover how to make their companies more secure while showcasing the most enterprising, influential and thought-provoking thinkers and leaders in security today. For information on events, online programming and the most up-to-date news pertaining to the information security industry visit http://www.rsaconference.com.