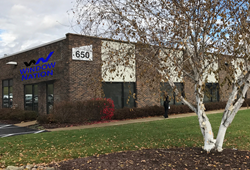 We're incredibly honored and excited to be open in Pittsburgh! -- Harley Magden, Window Nation CEO
Monroeville, PA (PRWEB) January 31, 2017
Window Nation is proud to announce that they are now "open for business" in the Pittsburgh metropolitan area. The company has hired 15 staff members who will be servicing customers throughout the region from a new showroom, as well as through scheduled in-home appointments. Their eighth US location, and first in western Pennsylvania, is located at 650 Seco Road in Monroeville.
"We're incredibly honored and excited to be open in Pittsburgh," said CEO Harley Magden, who founded the company a decade ago with his brother and President, Aaron. "It's been a long-time goal of my brother and I to assist homeowners throughout the eastern region, and our new Pittsburgh office will complement our strong existing operations in Philadelphia, Cleveland, Baltimore, and Washington DC."
The new showroom sells replacement windows, siding, and doors, while serving as the regional office for staff who travel to visit homeowners throughout the entire Pittsburgh metro area, including Allegheny, Butler, Washington, Westmoreland, Fayette, Beaver, Indiana, Armstrong and Lawrence counties. With a variety of custom options available, the showroom serves as a central hub for customers to explore styles, colors, sizes, glass options, and more.
The Window Nation Pittsburgh team is led by Sales Manager Ray Price, who comes to Pittsburgh after helping an extensive number of homeowners in Window Nation's Baltimore office. Ray is looking forward to providing homeowners with the absolute best customer experience. "I love helping homeowners find solutions and then providing them with 100% customer satisfaction," he states. "And the great thing about Window Nation is that we are the best when it comes to replacement windows, siding, and doors. I'm sure homeowners in Pittsburgh will be as comfortable trusting us as they are across the mid-Atlantic and in Northeastern Ohio."
Homeowners in Allegheny, Westmoreland, Fayette, Beaver, Armstrong, Butler, Washington, Indiana, and Lawrence counties interested in contacting the new local office should call 412.357.2760 or visit http://www.windownation.com/pittsburgh-showroom.
About Window Nation: Window Nation was started in 2006 by two brothers who literally grew up in the window business, learning about home improvement, customer care and the difference a quality window can make. The company provides an unsurpassed selection of premium windows, doors and siding installed by highly skilled, licensed professionals. The company has replaced over 375,000 windows in Northeast Ohio, Pennsylvania, Northern Delaware, Southern New Jersey, Maryland, Washington D.C., and Northern Virginia. Learn more at windownation.com.