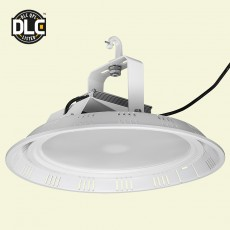 Changing Lighting Everyday
Vernon Hills, IL (PRWEB) February 02, 2017
ETI Solid State Lighting, a leader in high-quality, commercial and residential lighting solutions, has expanded its LED indoor ambient lighting portfolio with the launch of the Round LED high bay. The Round High Bay luminaire can replace high intensity discharge (HID), fluorescent and induction high bay fixtures in manufacturing, warehousing, cold storage, commercial, retail and other large indoor spaces.
The Round LED high bay is for indoor spaces with mounting heights ranging from 15'-35' and ambient temperatures between -4°F (-20°C) and 125°F (42°C). Utilizing an innovative aluminum heat dissipating design, the high bay fixture provides superior thermal management to optimize lumen production and efficacy.
Featuring focused spread distributions, the Round LED high bay luminaire is designed to meet the demanding requirements by the Illuminating Engineering Society (IES), and comes with a standard semi-diffuse lens to reduce glare and features a custom light engine specifically designed for the lumen requirements of high bay performance. Optional controls include an occupancy sensor that can offer additional energy savings and can extend the life of the LED high bay. It uses less energy to operate than traditional systems and reduces the amount of maintenance required so customers can achieve payback in 2-4 years.
Product is currently available through ETi Solid State Lighting distributors. For more information about the new fixtures, please visit our website.
About ETi Solid State Lighting, Inc.
ETi Solid State Lighting is a wholly owned subsidiary of Elec-Tech Solid State Lighting (HK) Ltd., providing the latest in LED lighting technology with a growing line of products that include LED tubes, fixtures, LED down lights, and portable under cabinet lights. With Jadestone managed funds holding 100% interest in Elec-Tech Solid State Lighting (HK) Ltd., the company is now well-positioned for further growth and value creation building on its robust manufacturing value chain, end-user driven innovation product development, global management team and strong customer base.