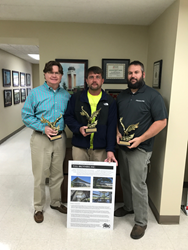 We're grateful for our clients, who allow us to work on projects that make a difference, and all our team members, who strive for excellence in meeting those clients' needs. - Tull Brothers President Fred Tull
CORINTH, Mississippi (PRWEB) February 01, 2017
Recognized for excellence for their work with commercial specialty building products, Tull Brothers, Inc. received two merit awards from the Associated Builders and Contractors (ABC) Mississippi Chapter. ABC's 30th Annual Merit Awards was held at the Country Club of Jackson in Jackson, Mississippi Dec. 3, 2016.
One of the awards was for the company's work on the Kay Research and Care Center on the campus of St. Jude Children's Research Hospital in Memphis. The second honor was for work completed for NASA at the Marshall Space Flight Center in Huntsville, Alabama.
"Receiving this prestigious recognition from one of the largest ABC chapters means a great deal to our company," Tull Brothers President Fred Tull said. "We're grateful for our clients, who allow us to work on projects that make a difference, and all our team members, who strive for excellence in meeting those clients' needs. These awards help us celebrate the craftsmanship and accomplishments that come from these partnerships."
At the Kay Research and Care Center in Memphis, which serves parents and children in the fight against childhood diseases, Tull Brothers furnished and installed skyline interactive glass walls. It was a part of the effort to improve the quality of the residential conditions for patient families. Every floor offers a glass mural welcome wall featuring a unique theme – the jungle, space and the ocean. Tull Brothers' experience and precision in constructing exterior doors, windows and curtain walls coincided with Marshall Space Flight Center's vision of delivering aesthetically pleasing and high performing LEED certified structures. LEED certified structures use less energy and water and reduce greenhouse gas emissions.
Tull Brothers received merit awards in 2010 and 2013 for work in Memphis at the Air Traffic Control Tower and Beale Street Landing Service. The company also won a merit award in 2014 for a project in Birmingham, Alabama at the Abroms–Engel Institute for Visual Art. The company also has been named Safe Subcontractor of the Year in Mobile District Construction Division, U.S. Army Corps of Engineers, and Superior Safety Award for the Mobile District Construction Division, U.S. Army Corps of Engineers.
Since 1962, Tull Brothers has offered superior building products and installation. With locations in six cities in Mississippi and Tennessee, the company has grown into one of the largest distributors of specialty building products in the South. Additional information about Tull Brothers is available at http://www.tullbrothersinc.com/.