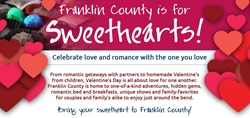 Franklin County is home to one-of-a-kind adventures, hidden gems, romantic beds and breakfasts, unique shows and family-favorites for couples and family alike to enjoy.
(PRWEB) January 31, 2017
Valentine's Day is coming up and whether it's spent with a sweetheart or as a day with children, celebrations are a special way to show the person you care about that you love them. Franklin County is home to one-of-a-kind adventures, hidden gems, romantic beds and breakfasts, unique shows and family-favorites for couples and family alike to enjoy.
Take a night off from cooking and instead, try delicious meals from The Orchards, offering fine dining in a relaxed, upscale atmosphere or Copper Kettle, a long-standing seafood and steak house. Molly's Restaurant on South Main in downtown Chambersburg, is hosting its annual Big Fat Greek Valentine's Day Feast on Tuesday, February 13! The event has a full 5 course Grecian Feast with ouzo, a Grecian liquor, and is also BYOB.
For the couple that likes to see live shows together, the Capitol Theatre in Chambersburg is bringing "Mountain Music and Moonshine" to the stage on February 17. Made up of area bluegrass groups, "The Plate Scrapers" and "Mountain Ride," enjoy whiskey, bourbon and beer as they put on a show.
Want to bring out the artistic side this Valentine's Day? Bring a beverage and snack and enjoy paintings at one of the Corks & Canvas classes at the Council for the Arts of Chambersburg. Instructor-led sessions are scheduled for February 8, February 17 and February 24. For a Valentine's Day treat, design a beer or wine glass at a guided lesson on February 14!
Many of Franklin County's bed and breakfasts are offering specials for Valentine's day.
The Mercersburg Inn is offering complimentary glasses of wine and sparkling water with dinners purchased by couples staying and eating dinner on site. The charming inn has luxurious rooms in this turn-of-the-century, Georgian mansion with plush feather beds. Located in Mercersburg, birthplace of 15th president James Buchanan, and home of Whitetail Ski Resort, a visit to Mercersburg is like stepping back to the 18th century with beautiful, stone taverns and homes.
Franklin County offers many other romantic and relaxing bed and breakfasts for a special Valentine's Day including White Hall Manor B&B in Greencastle. It's magnificent Greek Style columns and antebellum design harken back to days gone by and it's close to Whitetail Ski Resort, The Greencastle Antique Mall, and the Shops of downtown Greencastle.
Craig Victorian Bed and Breakfast, located blocks from downtown Chambersburg, is an elegant post-Civil War Victorian home the features 7 large, comfortable rooms, private baths and cozy common areas. This historic home with intricate original woodwork has been updated to have modern luxuries.
For couples looking to spend some time together this Valentine's Day in Franklin County, FCVB is offering a drawing for a special Valentine's Day gift basket! This basket including a gift certificate for downtown dining, local wines, chocolates, a night's stay at local bed and breakfast Craig Victorian Bed and Breakfast and more! To enter the contest and for more ideas this Valentine's Day, visit http://www.explorefranklincountypa.com\Valentines-Day!
The Franklin County Visitors Bureau invites all to explore Franklin County PA and enjoy the history, arts, recreation, natural beauty, fresh foods and warm hospitality of communities like Chambersburg, Greencastle, Mercersburg, Shippensburg, and Waynesboro. Franklin County PA is located just north of the Mason Dixon Line and an easy drive to Washington DC, Philadelphia, and Pittsburgh. Discover more….plan your visit at ExploreFranklinCountyPA.com , by contacting 866.646.8060 or 717.552.2977.