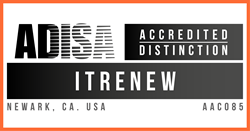 "ADISA certification gives customers confidence knowing that our tools and our processes consistently and effectively protect their sensitive data and account for their IT assets throughout the disposition process."
Newark, California (PRWEB) January 31, 2017
ITRenew, an industry leader in IT asset disposition (ITAD) services and data sanitization products, today announced that it has achieved ADISA certification at seven of its processing facilities in the United States, Canada and Europe. ADISA, the Asset Disposal & Information Security Alliance, is the leading accreditation body for the ITAD industry. The ADISA standard measures a company's capability to provide secure IT asset recovery and data sanitization services to businesses, and includes a stringent, multi-layered auditing process. ITRenew passed audits with distinction across its North American operations.
"ADISA certification is particularly strategic to ITRenew," said Aidin Aghamiri, vice president of corporate strategy at ITRenew. "It gives customers confidence knowing that our tools and our processes consistently and effectively protect their sensitive data and account for their IT assets throughout the disposition process. But the standard also recognizes that a physical destruction policy is merely preventative, and not prescriptive of ensuring optimal data security, financial and environment al outcomes. Thus, it helps align service providers and corporate policy makers in a shared mission for best practices that not only eliminate risk, but promote reuse. Which is where ITRenew truly excels."
According to Aghamiri, sanitizing data at the point of hardware decommission is the best practice and most effective strategy. However, many companies have been forced to adopt a physical destruction policy due to the lack of reliability, efficiency and scalability in sanitization technologies, particularly within data center and hyperscaled IT environments where ITRenew specializes. ITRenew developed Teraware, a proprietary data sanitization and asset management platform, to overcome these obstacles.
Teraware provides 100 percent sector-level verification and can erase tens of thousands of hard drives simultaneously in-cabinet, reducing erasure processing time by 80 percent. The software consistently achieves a 95-plus percent data erasure success rate, compared to only 50-60 percent from other commonly-used erasure tools. This preserves considerably more hard drives for reuse, while eliminating destruction costs.
"Technology has changed dramatically in the past decade, yet attitudes toward IT disposal have not," said Steve Mellings, founder of ADISA. "The business process needs to be viewed not as a waste stream, but as an extension of the in-life asset and information security policy. That, when controlled through an intelligent asset management policy, and utilizing an erasure tool like Teraware, can decrease risk and increase reuse to create both financial and social benefits."
ITAD certification is not the only accreditation ITRenew has received from ADISA. Through an ADISA Claims Test Method (ACT) carried out by the University of South Wales in October 2014, Teraware became the first solution to pass Risk Levels 1, 2, 3 and 4 (High) and Test Levels 1 and 2 for the forensic-level sanitization of solid-state drives (SSDs). "At this time, Teraware remains the only product which has successfully been tested to this level through the ADISA Claims Test process," said Mellings.
Teraware is also an asset management solution. The software will systematically discover and reconcile every serialized hard drive, and document the parent-child relationship, before equipment leaves the customer site, eliminating breach remediation events for inventory discrepancies. The software is additionally used to power Terabot™, a line of do-it-yourself data erasure machines ITRenew recently introduced.
About ITRenew
Headquartered in Silicon Valley, ITRenew has pioneered a revolutionary software-driven approach that streamlines traditional ITAD processes while delivering superior financial returns, security and sustainability. ITRenew is 100 percent dedicated to ITAD services and specializes in complete lifecycle management for data center, mobility and enterprise IT equipment, processing millions of IT assets through a global network of company-owned facilities. To learn more, visit ITRenew.com.