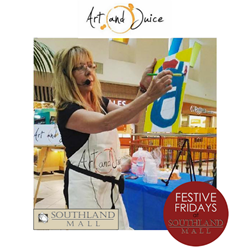 (PRWEB) January 30, 2017
Spread the love while shopping for your loved ones at Southland Mall this February! Every Friday evening, shoppers are invited to enjoy live entertainment and interactive activities for the entire family, taking place in the mall's Center Court from 6 - 8 p.m. This month's activities include art & crafts, a storytelling performance for the kiddos, capped with an eclectic dance collaboration you won't want to miss!
Below is a list of this month's line-up:

February 10th – Welcome back Festive Friday's favorite, 'Art & Juice', for a love and friendship theme celebration everyone will love. Host and founder, Raquel Torrent, will demonstrate some of her favorite arts and crafts activities, just in time for Valentine's Day!
February 17th – Need to take a break & relax? Why not stop by this Festive Friday and listen to a storytelling performance by Tonnette Collier, M.Ed from 'Sweet Vine'. The Founder/Executive Director of the non-profit outreach and prevention services program will be doing storytelling to covey the messages behind the stories that will encourage and uplift children of all ages.
February 24th – Dance the night away with 'Homestead City Ballet', as they take over Festive Friday for the first time and show off their talented dance moves. Dancer will perform a combination of ballet, flamenco, and hip-hop joined by host and founder, Maria Rose.
Festive Fridays is a free event series open to the public. Southland Mall is conveniently located on U.S. 1 and S.W. 205th Street, off the Florida Turnpike, Exits 11 or 12. For more information on Southland Mall or to learn about partnership opportunities for future Festive Fridays, please email inquiries to info(at)bristolpr(dot)com.
About Southland Mall
Southland Mall, located in South Miami-Dade County, Florida, the densest, most populous county in the southeastern portion of the state of Florida, has over 1 million square feet of gross leasable area. Southland Mall is conveniently located on U.S. 1 and SW 205th Street, off the Florida Turnpike, Exits 11 or 12, and is the only enclosed regional mall servicing South Miami-Dade County down to the Florida Keys. Southland houses over 100 specialty stores, including Macy's, Sears, JC Penney, TJ Maxx, Old Navy, Starbucks, a 16-Plex Regal Cinema and diverse Food Court. For more information about Southland Mall, visit mysouthlandmall.com on your mobile device, follow us on Twitter @solandmall, 'Like' us on Facebook at southlandmallmiami, or call (305) 235-8880.
About Gumberg Asset Management Corp.
Gumberg Asset Management Corp., a diversified real estate retail organization with a tradition of uncompromising integrity and unbeatable performance is the manager of Southland Mall. For further information, visit the Company's website at http://www.gumberg.com.