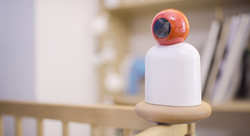 Using a non-contact method of tracking respiratory rates means doing away with batteries and wearables on the baby's body.
Bangalore, India (PRWEB) January 31, 2017
Today Ray, the HAX Accelerator's first investment in India, launched their Kickstarter campaign for the world's first non-contact respiration and sleep tracker for babies.
Supported by Johnson & Johnson Innovation and HAX as part of the Joint Consumer Health Device Accelerator Program, Ray has created Raybaby, a contactless device to help parents monitor their babies' respiration and track breathing difficulties. Raybaby uses the same trusted principles of ultrasound technology that checks infant health in pregnancies.
According to medical research published in the Medical Journal of Australia, respiratory rate is considered one of the most important medical markers. Disruptions in breathing can be an indicator of respiratory illness, such as asthma and bronchitis. There is also substantial evidence that alterations in respiratory rate can be used to predict potentially serious clinical events such as cardiac arrest and respiratory issues.
"Using a non-contact method of tracking respiratory rates means doing away with batteries and wearables on the baby's body," says Ranjana Nair, Ray Co-Founder. "This is of vital importance with children as comfort, hygiene and accuracy of recorded rates become top priority," she adds.
The device is small enough to fit in the palm of your hand. It can be wall-mounted or placed on a table top —there's no question of a baby ripping the unit off the wall. Ultra-wideband (UWB) radar technology operates at a distance while measuring even the tiniest movements of the baby's chest to infer respiration rate with 98% accuracy. With clinically tested and FDA approved components, results are comparable to those produced by medical grade gold standard polysomnography sleep studies conducted in hospitals to monitor sleep.
Parents can also get peace of mind from Raybaby's smart baby journal. "The built-in sensors and camera capture precious moments and then provide highlights to parents via the app," said Ray Co-Founder, Sanchi Poovaya. "They get the best of two worlds: vital monitoring and video monitoring all in one device, all of which is securely stored using Amazon Cloud Services."
With the accompanying app, parents can also track when their baby is awake, sleepy or sleeping, and get tips and notifications on how to optimize their baby's sleep routine, aiding in sleep training.
"Parenthood is tough. It's wonderful, exhausting and yet somehow, richly rewarding to bring up tiny versions of ourselves," says Ray Co-Founder Aardra Kannan. "But in all the madness, sometimes new parents tend to forget just how much technology can ease up their lives."
Ray's Kickstarter campaign runs from January 31 - March 17, 2017. For a full rundown of the pledge levels visit their Kickstarter page. Media wishing to interview their personnel should contact PR agent, Allison Aitken at +1 (514) 703-4989.
Media Contact
Allison Aitken
Proper Propaganda
(514) 703-4989
allison(at)properpropaganda(dot)net