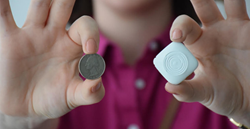 Ping aims to solve a problem that no other locating device has been able to – always-on, global tracking from next door to 3,000 miles away.
San Francisco, CA (PRWEB) January 31, 2017
The creators of Ping today announced the launch of an Indiegogo campaign to raise funds to expedite the production of the smallest, personal GPS device with coverage in 157 countries. Ping's US patent-pending technology is designed to pick up where Bluetooth trackers leave off, offering extended range and battery life to make it simple to find kids, pets, luggage or anything that moves, anywhere. Simply pair Ping with the free Ping app, click the corresponding Ping button within the app and within 60 seconds, you'll know the location of your device.
The Ping device is comparable to the size of a quarter (34mm x 34mm x 12mm) and features a check-in and panic button for safety, a rechargeable battery that lasts anywhere from three weeks to over six months depending on settings, a versatile clip, and is IP7 waterproof.
"Ping aims to solve a problem that no other locating device has been able to – always-on, global tracking," said Ping Founder, Josh Lippiner. "Other trackers like Tile locate objects within 35 feet; and most wearables work only in the US and are bulky and have terrible battery life. We created a discreet device that is easy to use because we want to make sure you can find anything important from next door to 3,000 miles away as quickly as possible."
Ping uses the same cellular network that cell phones use, and the data plans are built into the device so no additional plan is required.  Users simply activate the device with the free mobile app.
Main Features

Exceptionally long battery life (3 weeks to five months depending on use)
Easy to use "check in" button to let parents know their kids are where they are supposed to be
Powerful SOS button letting parents and caregivers immediately know that their child or parent needs assistance
Privacy mode that allows the user to shut off the ability to be located which keeping the ability to "check in" or request immediate help if needed
Ability to invite other family members and caregivers to safely and securely receive device notifications or request the device's location
Global reach through AT&T's 3G cell network
Responsive lights indicating use and activity
The Indiegogo campaign runs today March 2nd. Ping can be pre-ordered on Indiegogo for $99 with estimated shipping early summer 2017. After the campaign the device will be $129. The first year of coverage is included, with service renewal fee of $3 per month. Ping currently comes in both black and white with more colors to be added. Ping also ships with a versatile clip, making it easy to attach anywhere. For more information, visit: https://igg.me/at/pinggps or http://pinggps.com/. Video can be found here: https://vimeo.com/198890846
About Ping
Created by serial entrepreneur Josh Lippiner in 2016, Ping is the next evolution of personal trackers, designed to make it simple to find your kids, pets, luggage or anything that moves, anywhere. Unlike other devices that are limited in range, anything you Ping can be found globally. And at slightly larger than a quarter with an extremely long battery life, Ping is versatile enough to attach anywhere. If it's important, or it moves, Ping it. Ping completed a seed round in 2015 from an incredible mix of angels, including a former CIO of eBay, former President of NASCAR, head of a global manufacturing firm, a number of professional drivers who are also parents.