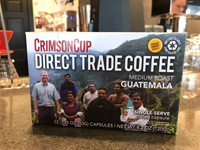 Our customers have been asking for locally roasted coffee in a convenient, single-serve form.
Columbus, Ohio (PRWEB) January 31, 2017
Columbus, Ohio Coffee Roaster Crimson Cup Coffee & Tea has launched a new line of single-serve coffee capsules. Designed to work with Keurig K-Cup, Keurig 2.0 and other home brewing systems, the capsules allow consumers to enjoy coffee-house quality java at home.
Founder and President Greg Ubert said the move reflects consumer demand. "Our customers have been asking for locally roasted coffee in a convenient, single-serve form," he said. "Because single-serve brewers account for more than a quarter of all coffee-maker sales, we anticipate solid growth in this market segment."
At launch, Crimson Cup offers six different single-serve coffees: Armando's Blend, Direct Trade Honduras, Direct Trade Guatemalan, Jungle Love, Celtic Grog and Sticky Toffee Caramel. The Ohio coffee roaster plans to expand the line based on demand.
Slightly sweet with a nutty undertone, Crimson Cup's signature Armando's blend combines medium roasted beans from Central America, Indonesia and Africa.
Direct Trade Honduras offers grapefruit-lime acidity, floral and honey notes, a liquor-like body and baker's chocolate finish. Sourced through the roaster's Friend2Farmer direct trade program, this coffee supports coffee farmers in El Socorro, Honduras.
Delicate flavor, subtle acidity and rich notes of berry and sweetness are the hallmarks of Direct Trade Guatemala. This well-balanced cup offers an aftertaste laced with cocoa flavors.
Jungle Love, a Fair-Trade certified organic blend, combines dark-roasted beans from Central America and Indonesia to create well-balanced flavor, a full body and a long finish.
Light-roasted Celtic Grogg coffee beans are flavored with a sweet and creamy blend of caramel, butterscotch, and hazelnut flavors.
Sticky Toffee Caramel is a light-roasted blend that combines creamy, buttery and toffee flavors reminiscent of toffee candy.
Crimson Cup's convenient coffee capsules are available online and at select specialty grocers including Weiland's Market, The Hills Market and Lucky's Market in Columbus, Ross Granville Market, and Lovejoy's Market in Plain City. The cost is $9.95 for a box of 12 capsules.
About Crimson Cup Coffee & Tea
Columbus, Ohio coffee roaster Crimson Cup Coffee & Tea is Roast magazine's 2016 Macro Roaster of the Year. Since 1991, Crimson Cup has roasted sustainably sourced specialty and craft coffee in small batches. The company also teaches entrepreneurs to run successful coffee houses through its coffee franchise alternative program, which includes a coffee shop business plan. Crimson Cup coffee is available through a community of more than 350 independent coffee houses, grocers, college and universities, restaurants and food service operations across 29 states, Guam and Bangladesh, as well as the company's own Crimson Cup Coffee Houses. To learn more, visit crimsoncup.com.