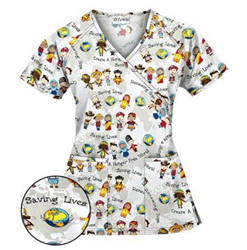 The future lies in the hands of children, so we are extremely happy to support organizations that prioritize helping children to be as successful and healthy as possible.
Fort Lauderdale, FL (PRWEB) January 31, 2017
Uniform Advantage (UA) a vertically integrated, multi-channel retailer of uniforms to the healthcare and hospitality industries partners with Action for Healthy Kids (AFHK) in designing a scrub top that raises funds for the organization in support of providing a healthy lifestyle for children by fighting against childhood undernourishment and physical inactivity.
Uniform Advantage first partnered with Action for Healthy Kids in 2014 and has donated more than $5,300 throughout their partnership. This year, UA will continue donations by contributing $1 from the sale of each "Create A World" scrub top print to AFHK.
Lori Nadeau-Dunlap, Vice President of Marketing at Uniform Advantage recognizes the importance of partnering with AFHK, "We know the future lies in the hands of children, so we are extremely happy to support organizations like this that prioritize helping children be as successful and healthy as possible. We aim to help causes and charities like Action for Healthy Kids that we believe in and help drive change in our communities starting with children."
Founded in 2002, Action for Healthy Kids works with schools to fight against childhood obesity and poor health. Action for Healthy Kids strives to have every kid healthy, active and ready to learn. To work towards reaching that vision, AFHK's mission is to mobilize school professionals, families and communities to take actions that lead to healthy eating, physical activity and healthier schools where children can thrive. Their work provides resources to help schools implement health and wellness programs that teaches kids how to lead healthy lives and stay well nourished.
In 2013, AFHK programs impacted more than 29,000 schools and communities, reaching more than 12.9 million children. AFHK's work is augmented by 75,000+ dedicated volunteers and champions, collaboration with a national partner coalition of more than 75 organizations, and in-depth knowledge of producing transformative change to make Every Kid Healthy™.
Learn more about Action for Healthy Kids, visit http://www.actionforhealthykids.org. Join UA in supporting AFHK's mission to help healthy kids at uniformadvantage.com. Find out more about other causes Uniform Advantage supports at UA Gives Back.
About Uniform Advantage
Uniform Advantage has represented style, quality and, above all, customer satisfaction for more than 30 years. As the first division of UA Brands, the chain was launched with a single South Florida store in 1985. Today, the company operates 29 retail locations in key markets across the U.S.; e-commerce and print catalog divisions; plus, designs and manufactures its own proprietary healthcare apparel lines. The company's corporate office is based in Fort Lauderdale, Florida with a distribution center near Atlanta, Georgia. Learn more at http://www.UniformAdvantage.com or by calling 800-283-8708.