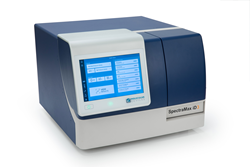 Built upon 30 years of experience developing high-quality solutions advancing protein and cell biology, we have designed this microplate reader to deliver new functionality
Sunnyvale, California (PRWEB) February 07, 2017
Molecular Devices announced today the launch of the new SpectraMax® iD3 Multi-Mode Microplate Reader, a cornerstone of a complete laboratory solution to help you expand the boundaries of your research capabilities.
This feature-rich reader has a large, high-resolution touchscreen with an embedded software package allowing you to quickly set up and run custom protocols; integrates near field communication (NFC) functionality for instrument personalization; highlights an ultra-cooled photomultiplier tube (PMT) that reduces background noise; and has SmartInject™ Technology ensuring equal injector mixing across the plate for high-precision experiments. With optimized reagents and the industry-leading data acquisition and analysis tool SoftMax® Pro 7 Software, the SpectraMax iD3 allows you to customize your workflow to perfectly match your needs.
"We are very excited with this innovative new introduction that allows you to run multiple SpectraMax iD3 instruments from one workstation using network connectivity, personalize workflows with one-tap NFC, and push data to workstations which eliminates wasted time in retrieving data directly from the instrument", said Greg Milosevich, President of Molecular Devices. "Built upon 30 years of experience developing high-quality solutions advancing protein and cell biology, we have designed this microplate reader to deliver new functionality while enabling continued expansion in the future as our global microplate reader installation base expands beyond 40,000 units."
About Molecular Devices, LLC
Molecular Devices is one of the world's leading providers of high-performance bioanalytical measurement systems, software and consumables for life science research, pharmaceutical and biotherapeutic development. Included within a broad product portfolio are platforms for high-throughput screening, genomic and cellular analysis, colony selection and microplate detection. These leading-edge products enable scientists to improve productivity and effectiveness, ultimately accelerating research and the discovery of new therapeutics. Molecular Devices is committed to the continual development of innovative solutions for life science applications. The company is headquartered in Silicon Valley, California with offices around the globe.
For more information, visit:
http://www.moleculardevices.com/spectramaxid3