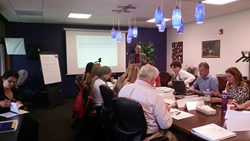 STAR Institute provides clinicians with a unique opportunity to receive training in clinical reasoning, assessment, intervention and treatment effectiveness research for SPD during intensive mentorship programs
Denver, CO (PRWEB) February 27, 2017
STAR Institute for Sensory Processing Disorder (SPD) announces its 2017 Intensive Mentorship opportunities including three different mentorship courses: Level I, Level II, and the once per year Research Mentorship. STAR Institute provides clinicians with a unique opportunity to receive training in clinical reasoning, assessment, intervention and treatment effectiveness research for SPD during intensive mentorship programs at STAR Institute's facility in Denver, Colorado. Participants begin with the one-week Level 1 course and may choose to return later to complete a Level 2 and/or Research Mentorship program.
STAR Institute's Level 1 Intensive Mentorship program objectives are to provide participants with a basic understanding of the latest research in SPD and the ability to:
1. Differentiate subtypes of SPD
2. Utilize clinical reasoning tools for intervention and home adaptation developed by Dr. Lucy Jane Miller and Dr. Sarah A. Schoen
3. Recognize realistic and functional goals using Goal Attainment Scaling
4. Recognize the importance of engaging families in the treatment process
5. Become familiar with appropriate tools to evaluate children with SPD
6. Observe client sessions and discuss treatment planning
7. Become familiar with the STAR Treatment Model
8. Address family needs and desires
9. Synthesize information in an OT assessment, write treatment notes using clinical reasoning approach, and communicate with physicians
The objective of Mentorship Level 2 is to develop advanced treatment skills. Participants will have an opportunity to apply knowledge from Level 1 by treating STAR Institute clients and participating in active mentoring from Dr. Lucy Jane Miller and the STAR Institute occupational therapy Mentorship 2 faculty. Each participant will be responsible for the daily treatment of one client per day, as primary therapist and observation of another client.
The annual Research Mentorship will not only launch clinicians forward in the field of research, but it will propel forward the world's understanding of Sensory Processing Disorder as a whole. This advanced learning opportunity focuses on single-subject research designs for studying treatment effectiveness. This course is co-taught by expert in the field of single subject designs, Dr. Stephen Camarata from Vanderbilt University.
"Our Mentorship courses offer professionals a unique learning experience that accelerates both their professional and personal growth as they dive into clinical reasoning, assessment, treatment strategies and the STAR Treatment Model. Clinicians are then able to go back to their communities with greater ability to effectively treat individuals with sensory processing challenges," says Dick Layton, Director of STAR Institute.
Sensory Processing Disorder is a neurological disorder that disrupts the way an individual processes and responds to sensations. Individuals with SPD may over- or under-respond to one or more sensations (e.g., a loud sound, or light touch), crave sensations or may have problems with motor skills and coordination. SPD affects more than four million children in the United States alone—an average of one child in every classroom.
Level 1 Mentorship Dates:
February 27-March 3, 2017
April 24-28, 2017
June 12-16, 2017
July 10-14, 2017
August 7-11, 2017
August 24-27, 2017 (offsite program)
October 23-27, 2017
November 2-5, 2017 (offsite program)
Level 2 Mentorship Dates:
April 10-14, 2017 (Only 1 spot available)
June 19-23, 2017
July 17-21, 2017
November 13-17, 2017
Research Mentorship Dates:
May 1-3, 2017
STAR Institute invites applicants for its Intensive Mentorship Program to apply at https://www.spdstar.org/basic/intensive-mentorship-programs.
About STAR Institute for Sensory Processing Disorder:
STAR Institute for Sensory Processing Disorder, a Colorado 501(c)(3), is the world leader in treatment, research, and education for Sensory Processing Disorder, a neurological condition that disrupts the daily lives of more than 4 million Americans. STAR Institute is the premier treatment center for children, adults and families living with Sensory Processing Disorder, feeding disorders, and other sensory conditions associated with ADHD, autism, and other developmental disorders. Dr. Lucy Jane Miller, founder of STAR Institute, is widely recognized as the leader in Sensory Processing Disorder research worldwide. For more information about the Greenwood Village, Colorado clinic, visit http://www.spdSTAR.org or call 303-221-7827.