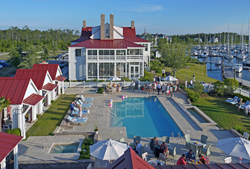 2017 Bliss Award Winner - Best Boating Community of the Year
Wilmington, North Carolina (PRWEB) January 30, 2017
At River Dunes, located close to the charming sailing village of Oriental, North Carolina, folks will find one of the finest coastal communities offering the best in coastal living with distinctive architecture and beautiful neighborhoods designed around a world-class 400 slip harbor according to Real Estate Scorecard. From sailing vessels and sleek luxury yachts to simple canoes and paddleboards, this southern inspired community is designed to enhance the waterfront lifestyle of residents.
Lifestyle amenities encourage time spent outdoors, having fun with neighbors and savoring each moment in the temperate four season climate. Homes are built for year-round enjoyment and to maximize the beautiful natural views with porches, vista docks and outdoor fire pits. Here the 'love of water' is a common thread that connects owners, families and friends. Residents enjoy each other's company and consider neighbors an extension of their family. They laugh together, play together and are quick to lend a helping hand. Real Estate Scorecard senses a genuine community spirit at River Dunes that feels warm and kind.
Boating adventures are shared over a glass of wine at impromptu 'docktail parties.' Social activities include friendly competitions such as sailing regattas and playful dragon boat races held in the marina basin. In addition, residents share a common desire to help the local community. Many are deeply involved in local charities supporting children and families in the surrounding communities.
Bring your boat or paddleboard and watch how a life by the water can change your life forever. River Dunes is a treasure. At Harbor Village, the 11,500 square foot two story clubhouse overlooks the marina, resort-style swimming pool with cozy cabanas, fireplaces and 400 slip marina. The clubhouse has a red metal roof, brick fireplaces and screened in white porches which reflect beautifully in the waters of the marina. Tall windows capture the sunlight and offer broad views of the activity in the harbor. Members of the boating community also have access to casual and fine dinning at the club.
Two Har-Tru tennis courts are just down the street from the club. The waterfront community has easy walking trails and a private Lake House for more intimate family gatherings such as shrimp boils or oyster roasts. This year, River Dunes built Grace Harbor Provision Company, a store offering gourmet grocery items, locally made specialties and products "Made in North Carolina."
The 400 slip deepwater marina welcomes all. Services at the marina include high speed fuel and pump outs. Showers, laundry facilities and a fitness center cater to transient boaters. The 1,100 ft. protected channel just off the Intracoastal Waterway provides world-class protection and peace of mind from the occasional storm. Grace Marina has repeatedly won awards. Marinalife magazine named River Dunes Best Large Marina in 2015. It was also chosen as a Top Ten All-Around Best Marina by the readers and boaters of the largest marina website in the world, marinas (dotcom). Visitors to River Dunes can rent one of the six charming one, two or three bedroom harborside cottages adjacent to the cozy wedding chapel.
River Dunes is one of fifteen Southern Living Inspired Communities, a prestigious achievement in coastal communities. Boaters and folks who love living on the coast have the opportunity to build their dream home on big water or close to the marina. Approximately 50 homes have been built to date at the southern inspired community. The newest neighborhood, Boathouse Row, features three homes styles located just off the Marina within walking distance of the Harbor Club:
The Bunkies - one and two story floor plans starting in the $200's
The Landings - townhomes with open floor plans and two porches with views from the $300's
The Cottages - six floor plans to choose from starting in the $400's
After analyzing 65 boating communities, Real Estate Scorecard encourages folks to make their way to the 'Sailing Capital of North Carolina' to experience one of the finest coastal communities. They believe River Dunes has raised the bar for all boating communities and once again is honored with the 2017 Bliss Award for Best Boating Community of the Year.
Contact River Dunes directly at 800-975-9565 to schedule a tour and check on Discovery Package availability.
About Real Estate Scorecard:
Real Estate Scorecard writes unbiased real estate reviews providing in-depth information about popular gated communities in Florida, Georgia, the Carolinas and Tennessee and Central America, all in an effort to help people discover where to retire in the South.
Website: http://realestatescorecard.com