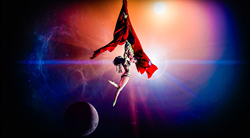 THE best event in Seattle! (Said everyone who has ever been...)
Seattle, Washington (PRWEB) February 03, 2017
Venice is Sinking Masquerade Ball attracts those looking for a different evening; historical even fantastical. Masquerade balls have attracted the elite to the simple for centuries, all looking to live a dream, be someone else, even for a night. Some come to find their Romeo or Juliet while others come for a date night that fuels desire. The beautiful gowns and masks are jaw dropping and gasps are heard all around. Many masks, wigs and costumes are handmade. Whether dressed in period costume, or in a lovely formal gown or tux a mask is a must.
The annual extravaganza for the senses is for adults over 21. Part of what makes this night so special is the growth it has experienced over the last 10 years, starting with just 100 attendees to now over 600 in 2016. The event is a fundraiser for Crooked Trails, a cultural immersion travel non-profit and over the last nine years has raised $70,000! In this 10th year, expectations are high! The event has continued to grow in stature and has become a Seattle event destination, attracting guests across the country.
"After traveling to Venice 10 years ago and falling in love with it, I was enchanted by the many traditional mask makers selling their wares. I was president of the board (at that time), of Seattle nonprofit, CrookedTrails.org which is all about travel! So I decided to make the Venetian Ball a fundraiser for them," says Tracy Klinkroth, founder of Venice is Sinking Masquerade Ball and Epiphany Events. "Follow us on our Facebook page and learn about the performers, and all the plans unfolding, and buy your tickets."
At the event, you will see Marie Antoinette who guards the decadent dessert bar with petite fours, mini cannolis, truffles and other delights. The Duo Reves aerialists will be magically dancing with silks above, pouring champagne upside down, joined by KING 5 Evening's reporter and co-host Jim Dever, as last year he accepted the dare to come be a part of the fun. He has been practicing with Duo. KING 5 will be there with cameras so attendees may even be on television with their eye-popping costumes.
Jim welcomes challenges from viewers and "takes the dare" in his regular Evening series, DareDever! Past dares have included a blindfolded stunt on the flying trapeze, an attempt to eat a 5-pound sandwich and even a run on the American Ninja Warrior demonstration course.
Other eye candy on the main stage in the atrium includes Geoffrey Castle - Electric Violinist, José Iñiguez - Opera Singer, Shanghai Pearl - Burlesque, Seattle Kokon Taiko - Japanese drum team, Vita Radionova - LED Hula Hooping, Brittany Walsh - Contortionist, Whisper - Contortionist, Nadira - Belly dancer, Inverted Play - Acro Duo, jugglers, hand balancer, and Poi performer. The Casa de Casanova VIP room will feature the bottomless Belinni cocktails and bubbly Prosecco and other delights. Learn more on Facebook! You can also visit Eventbrite.
About Epiphany Events
Epiphany Events is the creator of Venice is Sinking and has a
reputation for creating and hosting some of the most eclectic and fun
parties in Seattle: two (sold out) 50 Shades of Grey Soirees;
Beautiful Little Fools: A Gatsby-Inspired Party; Shipwrecked: A Pirate
Party and more. Contact: Tracy Klinkroth, Tracy(at)ChickChat(dot)net
206-909-8382 for more information.
About Crooked Trails
Crooked Trails is an educational non-profit organization helping
people broaden their understanding of the impact of travel on the
world's cultures and ecosystems through educational outreach and
sustainable travel programs. Call: 206-372-4405.