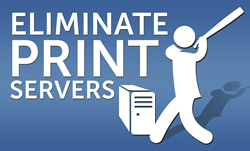 We are excited to help PrinterLogic expand and provide our resellers with a solution that can help their customers eliminate print servers
St. George, UTAH (PRWEB) February 01, 2017
PrinterLogic, the leading server-less Enterprise Print Management solution that enables businesses to eliminate print servers, today announced that is has expanded its distribution network through an agreement with Tech Data Corporation (Nasdaq: TECD), one of the world's largest distributors of technology products, services and solutions. The agreement enables Tech Data to distribute PrinterLogic's award-winning printer and driver management solution to resellers throughout the United States and Canada.
IT resellers around the world depend on Tech Data to support the technology needs of end users of all sizes, including small to medium-sized businesses (SMBs), large enterprises, educational institutions and government agencies. Printing and printer driver management impacts all of these organizations. Today's agreement enables Tech Data resellers to provide their customers with a leading print management solution that provides the following benefits:
Simplify Printer Driver Management & Deployment – PrinterLogic provides easy printer and driver management with a simple interface, eliminates scripting and GPOs, and enables self-service printer installation with floor plan maps – all in a solution that is easily implemented in days, not months. In fact, 91% of PrinterLogic customers are fully deployed within four weeks, and 67% are deployed within just five days.
Eliminate IT Infrastructure – PrinterLogic allows organizations to finally eliminate their print servers. And implementation is a breeze, so resellers can get their customers up and running in no time. Organizations will enjoy reliable, worry-free printing as well as the eliminations of server-related outages, increased print management functionality, and a reduction in help desk calls.
Reduce Costs – PrinterLogic cuts waste of print consumables, reduces the costs of purchasing, deploying and maintaining servers and endpoint devices, and boosts the productivity of IT staff as well as end users. Independent surveys of PrinterLogic's worldwide customer base reveals that 87% of customers surveyed experienced 100% return on investment (ROI) in the first year, and that 45% reported more than 200% ROI.
"Most enterprises deal with printer driver and deployment issues on a daily basis, but have never considered eliminating print servers as a viable option to address this. We have helped thousands of organizations eliminate their print servers, simplifying and increasing the reliability of their print environment, all while reducing their print costs," said Matt Riley, Vice President of Channels at PrinterLogic. "Tech Data has built its reputation on providing resellers with strategic technology solutions, and we look forward to helping their resellers solve end users' print management issues, regardless of size or industry."
"We are constantly on the lookout for solutions that will help our resellers solve critical problems for their customers, and we are excited to add PrinterLogic to our growing portfolio," said Tracy Holtz, Director of Product Marketing, Security and Information Management at Tech Data. "We are excited to help PrinterLogic expand and provide our resellers with a solution that can help their customers eliminate print servers, easily deploy and manage printer drivers and drastically reduce the cost and complexity of their printing environments."
Availability
While the current agreement enables Tech Data to distribute PrinterLogic's solutions throughout North America, the companies also plan to expand distribution of PrinterLogic to Europe. For more information on PrinterLogic's solutions, please contact printerlogic(at)techdata(dot)com.
About Tech Data
Tech Data Corporation is one of the world's largest wholesale distributors of technology products, services and solutions. Its advanced logistics capabilities and value added services enable 105,000 resellers to efficiently and cost effectively support the diverse technology needs of end users in more than 100 countries. Tech Data generated $26.4 billion in net sales for the fiscal year ended January 31, 2016. It is ranked No. 108 on the Fortune 500® and one of Fortune's "World's Most Admired Companies." To learn more, visit http://www.techdata.com, or follow us on Facebook and Twitter.
About PrinterLogic
PrinterLogic is the world's leading server-less Enterprise Print Management solution for remote site printer deployments. With more than 1,500 customers in over 120 countries, PrinterLogic enables organizations of all sizes to eliminate print servers. PrinterLogic's single integrated printer management platform is an on-premises web application that simplifies the management, migration, and deployment of printers while drastically reducing cost. In 2016, PrinterLogic has been recognized twice as one of the fastest growing companies in North America – being ranked number 141 overall (and 8th amongst software vendors) on the Inc. 5000 and number 107 on the Deloitte Fast 500.
For more information, or for a free trial, please visit http://www.printerlogic.com. Questions? Watch our video or connect with us on Twitter at @PrinterLogic or follow us on Facebook, LinkedIn, YouTube, Instagram and Google+.