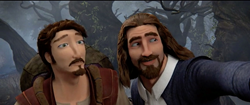 "I am over the moon that Pilgrim's Progress is coming out as a feature length CGI animated film. Please financially support this wonderful project. The quality is breathtaking. It is so timely and so needed." Ray Comfort
(PRWEB) February 02, 2017
Cat in the Mill Studios, located in Dallas and San Jose, Costa Rica is now in production of the first-ever feature-length CGI adaptation of The Pilgrim's Progress. John Bunyan's beloved Christian allegory, has been considered by many to be the second-most important book in history (second only to the Bible). It has been translated into more than 200 languages and has never been out of print. A Pilgrim's Progress live-action movie also helped launch Liam Neeson's acting career when he played the character of Evangelist in the 1978 version of the film.
Steve and Debra Cleary, owners of the studio have traveled extensively around the world and see this film having wide international appeal. "We have already received significant interest in distributing the film throughout The America's, Europe, Asia and even the Middle East. Translation partners are currently being acquired so we can begin dubbing as soon as the film is complete," states Mr. Cleary.
The film is being directed by Robert Fernandez, an award-winning writer and director who has shared an affinity with the story since his childhood days in Costa Rica. "This is probably the most important script I have ever written. We wanted to hold true to John Bunyan's work while creating a story that would be visually impacting and appeal to today's movie-goers."
The animated film is 50% complete and the studio has now launched a Kickstarter campaign to help raise additional funding. Kickstarter, the world's leading crowdfunding platform, offers a great opportunity to share the vision of the Cleary's new film and build a fan base. Their Kickstarter campaign is currently one of the most viewed in Kickstarter's animated film category.
The Clearys have taken a unique approach to raising funds on social media and crowdfunding by raising funds scene-by-scene enabling backers to play a more significant role in supporting the film while being able to share completed scenes on their own social media platforms. Their rewards are equally unique ranging from the typical DVD and t-shirts to replicas of swords used in the film, and the ability to become an animator at the studio in San Jose, Costa Rica.
The Film is due for release in 2018, with scripts, character development, animatic, and voiceovers largely complete. The Clearys have already raised more than $1 million including investing their own personal funds.
Cat In The Mill, LLC is a Dallas Texas based production company with animation studios in McKinney, Texas as well as San Jose, Costa Rica. Founded in 2014, Cat In The Mill has produced award-winning, high quality animated programming - incorporating faith and educational components with family values at its core. Cat In The Mill was recently awarded the contract to produce, The Animated Bible Series, a 50-episode motion-comic version of the entire Bible.
More details can be found here: https://www.kickstarter.com/projects/1765429427/the-pilgrims-progress-cgi-animation
For Media Inquiries, contact:
Andrea Lyons
andrealyons(at)me(dot)com
616.350.2179