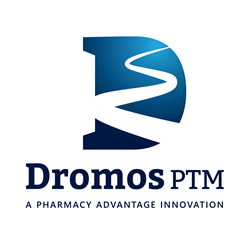 "Witnessing the software developed by our team of clinical pharmacists produce unprecedented therapeutic and operational outcome data is humbling," Dr. Van Lare continues.
Troy, MI (PRWEB) January 31, 2017
As health care guidelines perpetually evolve and quality of service expectations continue to rise, the role of technology has been pushed to the forefront as a remedy. Current industry pressures related to patient safety protocols plus enhanced pharmacological outcomes make it a race to the finish line for the latest and greatest in medical informatics as well as data warehousing. In anticipation of this trend, Pharmacy Advantage thought leaders Daniel Kus, RPh, Vice President and Jonathan Van Lare, PharmD, CSP Specialty Pharmacy Services Director, brought together a hand selected team of their specialty pharmacy experts to construct DromosPTM. This innovation is a best in class, next generation therapy management software and data platform poised to disrupt existing solutions. DromosPTM answers the riddle that has eluded many stakeholders: What emerges when you fuse pharmacy dispensing software, a comprehensive counseling program, real-time central database, electronic medical record interface, and a drive to generate superior practice standards through seamless, analytical communications?
While many organizations resorted to incumbent, short term resolutions for therapy management, the Pharmacy Advantage team refused to settle. Considering the rigid branch logic systems available could not address all of the complexities related to specialty patients and their varying pathways of care, these commercial options were deemed inadequate. However, with the implementation of DromosPTM's configurable design, staff was afforded the flexibility to effortlessly maneuver through various clinical processing modules. This feature allowed a more natural progression of conversation during patient interactions and improved counseling engagement. In addition, the proprietary technology enriched workflow efficiencies, data aggregation capabilities, and provided a dynamic assessment resource that later proved valuable during a national accreditation audit. DromosPTM facilitated immediate access to key performance indicators used to compare against recognized industry benchmarks.
Utilizing the DromosPTM platform not only had significant positive impacts on customer service levels but also advanced multiple areas of pharmacy operation, ultimately leading to the following notable achievements for Pharmacy Advantage.
Prior Authorizations:

Before Dromos (2012-2014)-- 9,200 Prior Authorizations were completed
After initiation of Dromos (2014-2016)-- the pharmacy staff completed almost 30,000 Prior Authorizations
Financial Assistance:

Previous to Dromos (2012-2014)-- $650,000 was secured to support patient copays
Following Dromos launch (2014-2016)-- over $3.2 million was obtained for patient funding
Counseling:

Presently, Pharmacy Advantage has over 5,000+ patients receiving counseling for specialty medications using the adaptable assessment instrument that aids in customizing care to individual needs
Limited Distribution Product Access:

Prior to Dromos, Pharmacy Advantage had gained access to minimal limited distribution therapies
After the launch of Dromos, they were able to increase access to 26 more limited distribution treatments
Data Contracting:

Since Dromos inception, the robust information and statistical feedback related to patient adherence has resulted in over $770,000 of revenue for data reporting contracts
"Bringing DromosPTM to external organizations via commercialized market is an exhilarating journey," says Jonathan Van Lare, PharmD, CSP. "Witnessing the software developed by our team of clinical pharmacists produce unprecedented therapeutic and operational outcome data is humbling," Dr. Van Lare continues. "I like to think of our compassionate employees as the heart of Pharmacy Advantage, while DromosPTM serves as our diagnostic tool, allowing us to pulse our successes and areas for improvement. I am beyond elated to watch our innovation deploy into the industry, helping shape the future of specialty pharmacy and therapy management."
Pharmacy Advantage continues to design enhancements for DromosPTM as new healthcare standards and requirements are introduced. Applications for pilot candidates are currently being accepted and requests for DromosPTM demonstrations are available through http://www.MeetDromosPTM.com website.
About Pharmacy Advantage
Pharmacy Advantage is a Michigan-based organization that provides compassionate care as well as comprehensive Medication Therapy Management Programs to patients with acute and chronic conditions. Incorporated specialty services: free prescription delivery, benefits investigation, financial assistance programs and disease specific clinical counseling. As part of an integrated delivery network, our workflow encompasses systems to certify appropriate medication utilization, adherence, and routine preventative measures to limit adverse reactions. Pharmacy Advantage: A healthy dose of compassion.
To learn more about DromosPTM, please contact Jonathan Van Lare at 248.528.4524; JonathanV(at)PharmacyAdvantageRx.com or visit http://www.MeetDromosPTM.com