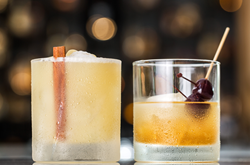 In a city filled with so many phenomenal happy hour spots, it's an honor to receive the title of 'Best Happy Hour', especially on the heels of our September win for 'Best Craft Cocktail Bar' in Orlando
ORLANDO, Fla. (PRWEB) January 31, 2017
Romacorp, Inc., parent company of TR Fire Grill, is thrilled to announce the Winter Park Chamber of Commerce, Park Avenue Merchants Association, and the Winter Park/Maitland Observer have named TR Fire Grill their 2017 Ovations Award winner for "Best Happy Hour". This award is the latest in a continuous string of accolades for the Winter Park restaurant since its November 2015 opening, and follows TR Fire Grill's win for "Best New Restaurant" at the 2016 Ovations Awards. A staple of the Winter Park and Maitland community, the Ovations Awards are determined based on input from Chamber members, Observer readers, and community leaders who vote for their favorite places to shop, dine, and do business.
"In a city filled with so many phenomenal happy hour spots, it's an honor to receive the title of 'Best Happy Hour', especially on the heels of our September win for 'Best Craft Cocktail Bar' in Orlando," said Stephen K. Judge, President and Chief Executive Officer of Romacorp, Inc. "We put a lot of work into making sure we deliver truly innovative and craveable craft food and beverages, paired with a fun and friendly atmosphere with outstanding service. Our team is proud to be recognized as one of the best places in Winter Park and Maitland to kick back and enjoy an incredible experience with friends and family."
Located at the intersection of 17-92 and Lee Road, TR Fire Grill is a chef-inspired American bistro that has quickly become part of the Winter Park and Maitland fabric. Staying true to its passion for supporting the local community, TR Fire Grill hosts "Local Hour" seven days a week, its version of happy hour, focused on celebrating its favorite local and Central Florida distillers and brewers. "Local Hour" profiles community partners such as Winter Park Distillery, St. Augustine Distillery, JDub's Brewing Company and Swamp Head Brewery, and pairs these great local drink selections with a menu of small bites for guests to enjoy. In addition to being honored with 2016 and 2017 Ovations Awards, TR Fire Grill was also named 2016's "Best Craft Cocktail Bar" in Orlando by the Orlando Sentinel and "Best Overall Cuisine" in Orlando by OpenTable in 2015 and 2016.
TR Fire Grill hosts a number of popular community events such as 'Yappy Days', where guests can dine with "man's best friend" on the patio, and even adopt a new pet from community partners including Pet Rescue by Judy at special 'Yappy Days' events. The restaurant has become a fan favorite with its incredible brunch, served every Saturday and Sunday, featuring endless Mimosa's and boldly brilliant dishes, such as the popular "Chicken & Waffles," with white Wisconsin cheddar and bacon dust, and the "1/2 Pound Sunday Morning Burger" featuring deliciously fresh ingredients with daring flavor.
About Romacorp, Inc.
Romacorp, Inc. is the parent company of TR Fire Grill, a new chef-inspired American bistro located in Winter Park, Florida and Honolulu, Hawaii, with an additional location planned for Kuala Lumpur, Malaysia later in 2017. Launched in November 2015, TR Fire Grill is an award-winning restaurant recognized as Best New Restaurant (2016 Winter Park Maitland Ovations Award), Best Craft Cocktail Bar (2016 Orlando Sentinel Best Bets Award), Best Happy Hour (2017 Winter Park Maitland Ovations Award) and for Best Cuisine in Orlando (2015 and 2016 OpenTable Awards). TR Fire Grill is also proud to partner with the Make-A-Wish Foundation (http://www.cnfl.wish.org), one of the world's leading children's charities, in an effort to help grant the wishes of children with life-threatening illnesses across Central and Northern Florida. For more information about Romacorp, Inc. and our new TR Fire Grill concept, visit http://www.trfiregrill.com.
For more information about TR Fire Grill franchising opportunities, please visit http://www.trfiregrillfranchise.com or call (866) 981-0586.