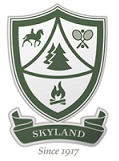 We're simply thrilled that Wendy has joined us to help usher Skyland into its second century of operation. She has tremendous alignment with Skyland's mission, and a passion for youth development, girls leadership and outdoor education.
Clyde, NC (PRWEB) February 14, 2017
Skyland Camp for Girls officially announced the appointment of its new camp director, Wendy Burns. The private girls camp, established in 1917 in Clyde, North Carolina, welcomed the new director to take the helm at the turn of the camp's centennial season.
"I am excited about this summer," Ms. Burns said. "Getting to meet girls and staff, having the opportunity to be a part of the 100th celebration, and helping to guide Skyland into its next hundred years."
"We performed a diligent search in 2016 to find someone with deep experience in girls residential camping, as well as someone who would understand and embrace Skyland's unique culture and rich history," said Sherry Brown, co-owner and Executive Director. "This was particularly important given the expected 2017 departure of Madi Weisberg, a much loved and highly-valued member of Skyland's leadership team who has moved to Montana to explore new adventures."
Over nine months, the staff researched, vetted, interviewed and met with several outstanding candidates. The official candidate search concluded in December and was followed by an onboarding session for Ms. Burns.
Skyland Camp has the unique position of being recognized as a fourth-generation family-owned camp and has had just three primary directors in its lifetime, all descendants of the original director and founder, Susan Courtney Harris. Ms. Burns will join the year-round leadership team--Sherry Brown, Mike Brown, Kay Anderson, and Bunny Brown--to help enrich and optimize the summer camp experience for campers and staff.
"Wendy will be a beautiful addition to the Skyland team," says Kay Anderson, Senior Director. "We're simply thrilled that she has joined us to help usher Skyland into its second century of operation. She has tremendous alignment with Skyland's mission, and a passion for youth development, girls' leadership and outdoor education. Her breadth and depth of experience are impressive, but even more so is her love of the camp world and the power that it has in shaping girls, families and future generations."
Wendy Burns shares Skyland's commitment to empowering girls as confident, curious, creative individuals who are connected to themselves and to the world, Anderson explains.
Before joining Skyland Camp, Wendy Burns served as the Director of Outdoor Programming and Property for the Carolinas Peak to Piedmont Girl Scouts. Over two years, she helped to increase camp attendance and improve programming for their Scouts. She also served as the VP of Membership and Resident Director for the Girl Scout Council of Vermont, helping to increase membership over 3 years from 65% to 98%, which remained at 98% for the next three years. She was also instrumental in revising the 6-week program into a 9-week program for the Council. Prior to serving on the Council, Ms. Burns held the position of middle school counselor at Stowe Middle School in Vermont.
When asked about her vision for Skyland Camp, Ms. Burns replied, "In the world of tech and speed that we're in now, there are so many choices that girls and young women are inundated with. They become so busy. I think sometimes these girls are at risk of getting lost. Camp gives them the opportunity to slow down, take a breath and get out of the tech and busy-ness. They can get in touch with who they are and who they can be. This opens them to more opportunities and lets them connect better and more with the people around them—other campers and the staff."
"Skyland Camp gives girls the time to reflect on who they want to be," she explained, "not who they're expected to be."
Ms. Burns holds a Bachelors degree in Liberal Studies and a Masters of Education degree in School Counseling from Vermont College. She is a licensed school counselor and certified with the Red Cross. She served as an American Camp Association (ACA) Standards Review Board Member for two and a half years.
This month, Ms. Burns will be recognized by the ACA as a Pioneer of Camping at their national awards ceremony in New Mexico, receiving merit for her 30+ years of service as a member and lead visitor.
"Skyland builds legacies, one girl a time," Ms. Burns said.
For more information, visit skylandcamp.com.