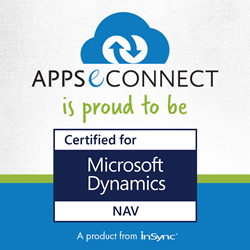 APPSeCONNECT meets Microsoft's highest accreditation available for partner solutions
Kolkata, India (PRWEB) February 02, 2017
InSync Tech-Fin Solutions Ltd, a prominent player in the application integration industry recently got CFMD Certification by Microsoft for NAV integration with other applications like Shopify, Magento, BigCommerce etc. CFMD certification means the solution that has on offer meet Microsoft's highest accreditation available for partner solutions. InSync, as a company and APPSeCONNECT, as a product has been continually evolving over a decade to emerge out as the unequivocal service provider for integration across platforms.
The connectors for integrating multiple applications are becoming a logical choice for organizations across the globe to manage their business processes without compromising on the ease of use. These connectors let the applications speak to each other and transfer data between themselves to give the real-time picture of the overall business across platforms. InSync has redefined this category by blending the latest technology with new innovations to support the latest business trends. It is first of its kind to introduce ready-made integration business solution which can be deployed to any organization immediately.
The product is based on hybrid cloud architecture where the standard business processes are maintained in the cloud while the business-critical data is secure on client's own premise. The generic platform also gives a huge number of tooling capabilities which allows to easily customize any business process thereby giving 360 degree view of the entire business flow. The graphical representation of data flow and web based easy tweaking features that recently added to the platform makes it even more flexible and powerful. The product transforms the so-called "Internet of apps" concept to a different level where every app can talk to each other in their own language and protocol.
When defining standard integration for a business, InSync also feels that most of the business applications are incapable in some extent to support integration and requires additional development in form of add-ons to aid programming interfaces for integration. Dynamics NAV extension is one of such application which requires development to support ready-made integration. The extension allows the implementers to execute any standard business integration through APPSeCONNECT.
What is CFMD?
CFMD is a certificate given to 3rd party Software vendors that certifies an add-on, on meeting certain standards. Logo of CFMD certification means the solution has met Microsoft's highest accreditation available for partner solution. The logo ensures the following:
The product(s) is Dynamic specific (NAV, CRM).
The solution has been tested for integration with the product it is intended to work with.
The product(s) has been used and is recommended by end users, the Independent Software Vendor's (ISV) customers.
It is professionally implemented and systematically supported by the ISV or certified reseller of the ISV.
The software provided by the Vendor is safe and provides highest standards maintained by Microsoft.
How APPSeCONNECT add-on got certified?
APPSeCONNECT as a product was supporting integration between NAV and other applications for a long time. It was also providing an extension to enable integration with Microsoft NAV. But after partnering with Microsoft, CFMD has been a challenge and the company also thinks certification is a good addition to the product as it gives reliability, embraces transparency, provides security and so on. InSync kept it in their product road-map and recently worked on it to move ahead to get certified. The team worked day and night to change the extension in lines of easier implementation, higher security, maintaining de facto standards, better documentation etc. After development, the extension is also deployed in a number of accounts to get feedback. The company took one step ahead to work again on those feedback to create the final solution. In the long run, the product is sent for certification to Microsoft with the list of clients who wanted to extend their thanks to the team by recommending the solution for certification. With the dedicated effort towards a common goal of improving overall business on the market, the company is proudly certified with CFMD, a standard partnership certification from Microsoft and thereby adding yet another feather to their cap.
Salient features of NAV Extension
Very easy installation. After the base is installed, deploying the APPSeCONNECT add-on is very easy and quick.
The extension does not change/alter any existing base objects of NAV. Hence there is literally no impact on client's existing NAV for installing and uninstalling the extension.
Extension is called through generic events of NAV and there is no overhead on existing NAV functionalities.
The data is loosely coupled but tightly integrated over various screens of NAV. Hence there is option to specify which data needs to be integrated to external apps, but the data is separated from actual NAV objects.
NAV extension supports multiple companies.
It is compatible with all the versions NAV 2009 till date.
About APPSeCONNECT
APPSeCONNECT is a cloud based Hybrid solution which maps business processes of ERP with eCommerce / Marketplace or CRM Systems. The platform gives a ready-made end-to-end service which can be re-configured and downloaded from the APPSeCONNECT cloud while all the credentials remain intact at client's own premises.
APPSeCONNECT is developed as a platform where an ISV / Implementation partner can also work together and develop the cloud configurations for the Apps which are not supported and can work seamlessly together with Apps which are supported. APPSeCONNECT installs an Agent which downloads all the configurations from the cloud and use those configurations for synchronization operations done on-premise.