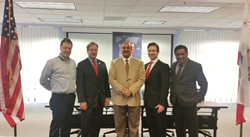 TRIC appreciates DEC's volunteering their time and expertise
Alameda, CA (PRWEB) February 01, 2017
On January 19, 2017, Pipe Bursting Manufacturer, TRIC Tools participated in Northern California's District Export Council (DEC) Meeting in Oakland's Federal Building. Chief Financial Officer - Michael Lien represented TRIC at the meeting. The U.S. has 59 nationwide DEC's throughout its eight US Commercial Service Districts. Members of the N. California Board were Chairman - Deep SenGupta, Vice Chair - Dean Fealk, Treasurer - Jamal Qureshi and Executive Secretary - Rod Hirsch. Rod Hirsch is the Director of Oakland's Export Assistant Center. Rod has been a guiding influence as TRIC developed its overseas distribution network the past 12 years. Dean Fealk is an attorney with DLA Piper Global Law Firm, Deep SenGupta is the CEO for DSG Global, LLC and Jamal Qureshi is Director and CEO for JQ American Corporation.
Also, presenting at the Council meeting were California Chamber's Vice President of International Affairs - Susanne Stirling; Exim Bank's outgoing Director - Craig Schumann; and Small Business Administration's (SBA) Regional Export Finance Manager - Jeffrey Deiss. The event highlighted the number of resources available to manufacturers who are interested in developing and growing their international business opportunities. The Exim Bank offers 95% credit insurance for international sales, while the SBA offers small business loans for real estate, equipment and disaster recovery.
One of the highlights was learning how the District Export Council members volunteer their time and services for the benefit of their region's local businesses with their knowledge of and expertise in international business. The 59 nationwide DECs throughout the country exist to support the U.S. Government's export promotion efforts. "TRIC appreciates DEC's volunteering their time and expertise to build local businesses who in turn are able to hire new employees in Northern California," said Mr. Lien.
TRIC Tools, Inc. is an infrastructure and environmental solutions company that provides proprietary technology, tools and services for trenchless rehabilitation and replacement of sewer, water, gas and other difficult to access underground pipes. TRIC holds five U.S. and International patents for its device and method of trenchless pipe bursting.
In 1997, TRIC established the standards and created the industry for lateral replacement (home sewer line) using its pipe bursting technology. TRIC continues to re-engineer its technology for new markets, expanding upon its domestic sewer lateral tools with the introduction of innovative solutions for mainline sewer, drinking water and gas distribution pipelines.
To learn more about TRIC or the trenchless industry please call 888-883-8742 or go to their website at http://www.trictools.com.