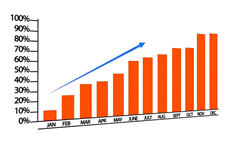 In addition to its existing service lines, Mindmatrix introduced exclusive partner engagement enhancement services and the IT Advantage Program, a comprehensive sales & marketing enablement package
Pittsburgh (PRWEB) January 31, 2017
Mindmatrix Inc., the Pittsburgh-based, leading PRM, Sales & Channel Enablement company announced today that it grew over a 100% in the year 2016. Mindmatrix's growth spurt last year was driven by growth to new markets and its existing client base, the introduction of new product features and service lines.
Emerging as the most comprehensive Channel & Sales Enablement platform:
Mindmatrix emerged as the most comprehensive channel and sales enablement platform in 2016 by enhancing its platform and introducing over five ground-breaking features. Some of the key features that were introduced in the year 2016 included: on-behalf marketing, distributed CRM integration & lead routing, a social lead generation tool, channel engagement analytics, and training & onboarding module.
One major enhancement to the Mindmatrix platform in 2016 was the CRM Integration that offered a single point of usage for sales across collateral, playbooks, contacts, campaigns and operations. This transforms Mindmatrix into the only comprehensive, single-sign on platform that will give sales networks everything they need, all in one place.
Addition to Mindmatrix's service lines:
In addition to its existing service lines, Mindmatrix introduced exclusive partner engagement enhancement services and the IT Advantage Program, a comprehensive sales & marketing enablement package designed exclusively for VARs, integrators and IT consultants. Mindmatrix also added custom MSP-IT website creation services to the package.
Growing customer and partner base:
In 2016, Mindmatrix added over 200 clients to its existing client base and forged some very strong partnerships that have helped the US-based channel enablement leader gain a strong footing in the global market.
Spreading its wings across the globe:
During the year Mindmatrix also doubled its office space in Pittsburgh and opened two other offices, thus offering 24/7 global support to its customers.
Growing brand presence of Mindmatrix:
2016 also saw Mindmatrix strengthening its brand presence across the country by sponsoring several tradeshows including the SiriusDecisions Tech Exchange, SiriusDecisions Leadership Exchange, The Channel Chief Conference, and the Autotask Community Live.
Spreading the word by sharing expertise and success stories:
2016 also marked the First Ever Sales Enablement Event in Pittsburgh that was hosted by Mindmatrix. The event, focusing on maximizing revenue generation through direct and indirect sales channels, received an overwhelming response.
With a blended approach to the market, Mindmatrix hosted joint webinars with industry analysts such as SiriusDecisions, while inviting clients like Crexendo Inc. and Orsini IT to share their success stories at events such as the SiriusDecisions Tech Exchange, and the Autotask Community Live 2016, respectively.
A brand new website:
The company also upgraded their websites (http://www.mindmatrix.net and http://www.mspadvantageprogram.com) to match their new positioning and service offerings.
Harbinder Khera, CEO, Mindmatrix says, "We had an amazing 2016 from every perspective. Our client base grew exponentially, we added exciting new features to make the Mindmatrix platform more powerful, opened up our third office, expanded our existing office in Pittsburgh and more than doubled our staff. We hosted the #PGHSalesEvent2016 which was a huge success and were well received at industry benchmark tradeshows. We not only met, but also exceeded client expectations and that makes all the hard work, all the sweat, worthwhile. All this positivity has just inspired us to step up our game even more in 2017. To give you a glimpse of what we are up to, this quarter we are rolling out our new partner program and also starting a MSP-IT Advantage package especially for our veterans."