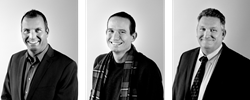 "HR Technology is driving rapid innovation, and this world-class team will help us further our vision of making the world a better place to work together." Doug Claffey, CEO, WorkplaceDynamics
Exton, PA (PRWEB) January 31, 2017
WorkplaceDynamics, a leading provider of technology-based human resources, employee engagement, and performance improvement solutions, today announced a series of appointments to its senior leadership team:

Stephan Hagelauer serves as the Vice President of Consulting. He has more than 15 years of expertise in developing strategic plans and implementing transformative initiatives for Fortune 1000 and mid-size companies. Prior to joining WorkplaceDynamics, Stephan was the manager of Richardson's consulting department. His experience includes leadership positions at Lumiga and the Cartonnerie de la Réunion where he managed operations.
Fraser Marlow brings more than 20 years of expertise in employee engagement research and consulting. As the Head of Workplace Research, Fraser is responsible for go-to-market efforts through research and client engagement. Prior to joining WorkplaceDynamics, he served as the Head of BlessingWhite's Leadership Practice. Fraser's prior experience also includes leadership positions at GE Healthcare.
Craig McLain drives the development of enterprise sales for WorkplaceDynamics' employee engagement and performance improvement solutions as the Vice President of Enterprise Sales. Before joining the firm, Craig was the Vice President of Business Development for Sprise App and the Client Solutions Director at Softmart.
"Tapping into this combination of entrepreneurial, operational, and industry expertise supports our strategy of continued growth as we expand our reach in the employee engagement and HR SaaS arena," commented Doug Claffey, CEO of WorkplaceDynamics. "Technology is driving rapid innovation, and this world-class team will help us to further our vision of making the world a better place to work together."
###
About WorkplaceDynamics
A leader in organizational health research and SaaS-based HR tools, WorkplaceDynamics has reached more than 14 million employees from 39,000+ organizations through its employee engagement platform, Top Workplaces program, and workplace improvement solutions.