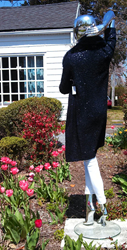 "The Suit Alleges the Defendants issued purchase orders for the Value of ONE CENT"
New York, New York (PRWEB) February 02, 2017
U.S. District Court Judge Joseph F. Bianco has given Prince of Scots, led by its lawyers Barry Janay, Esq. and Claire Murphy, Esq. of The Law Office of Barry E. Janay, P.C., the go ahead in their lawsuit against The Jones Group Inc, Jones Apparel Groups USA Inc, and Kasper A.S.L. LTD, Case ID 2:15-cv-01641. The ruling, which was put on the court's record on January 6, 2017 in the U.S. District Court, Eastern District of New York, struck down a motion filed by the Jones Group et al. to dismiss the suit on several legal points, finding that Prince of Scots suit had merit.
The Jones Group had filed a motion to dismiss and charged that Prince of Scots "failed to state a claim upon which relief can be granted," according to the court's memorandum. 
The New York fashion design and manufacturing firm, PRINCE OF SCOTS, LLC, filed a federal lawsuit against Jones Group, which include fashion icons, JONES, NINE WEST, and KASPER. Private equity firm, Sycamore Partners, purchased the Jones Group in April 2014. According to Exhibit One in the lawsuit, Sycamore Partners and Jones Group CEO Wesley R. Card, CEO were aware of the Jones Group dispute, the accounting irregularities, and undervaluing the debt owed to Prince of Scots prior to the purchase on April 8, 2014.
The lawsuit alleges, among other things, unethical business practices, which include multiple breaches of contracts, false inducements, false promise, and fraud to mislead PRINCE OF SCOTS into a strategic relationship to design and manufacture exclusive offerings for the Jones Group stable of companies and brands. The suit alleges what appears to be a systematic scheme of stealing designs, fabrics, and novel production methods whereby Jones would produce Prince of Scots developments through other companies.
The court documents allege Jones Group wrote purchase orders to Prince of Scots with values of one cent per unit well under the market value. Jones would then hold Prince of Scots hostage on payments and promises of future business, refusing to honor the market value financial commitments and fulfill the debt obligation.
PRINCE OF SCOTS' designs have been manufactured and were successfully marketed by the Jones Group to such retailers as JCPenney, Macy's, Boscovs, and Sears Canada.
Danser stated, "Their actions were an effort to harass, annoy, and oppress our business and deprive us of any economic opportunity. We were constant victims of threats and innuendo to hurt and damage our business and reputations."
Contact
The Law Office of Barry E. Janay, P.C. is a relationship-based New York law firm – providing premier, strategic advice for clients here and across the US. While we have strong areas of expertise in litigation, intellectual property, and employment law, the combined experience of our lawyers provides our clients with distinct knowledge in a variety of legal services that are backed by proven results.
We've delivered sound advice to New York based businesses for over ten years.
Barry Janay, Esq., MBA, ASEL
The Law Office of Barry E. Janay, P.C.
14 Murray Street, Ste. 235
New York, New York, 10007
Tel: 917-756-8501