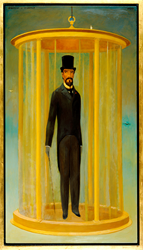 Spring Arbor, Mich. (PRWEB) January 31, 2017
The artwork of critically acclaimed and locally born artist Philip C. Curtis will be on display at Spring Arbor University's Ganton Art Gallery from February 3 to March 12. Titled "Coming Home," this display of Curtis' work is the most historically and artistically significant show yet received by the Ganton Art Gallery. The show includes 31 works of oil on board and 17 works on paper and furniture design.
The show opens to the public on Sunday, February 5, following a private, invitation-only opening the previous Friday. The gallery will hold a Community Reception on Sunday, February 12, from 2 p.m. to 4 p.m. SAU Art Department lecturer in art Jonathan Rinck will deliver a lecture on the style and significance of the pieces on display. Others will be on hand to answer questions and interact with attendees. Food and drink will be provided. The event is open to the public. Visit arbor.edu/philipcurtis for directions and contact information.
Philip Campbell Curtis was born May 26, 1907, in Jackson, Michigan, and received his bachelor of arts from Albion College, later attending the University of Michigan and then Yale for an art degree. During the Great Depression, Curtis served in the Work's Progress Administration's Federal Arts Program, which eventually relocated him to Phoenix, Arizona, and he spent the remainder of his life painting in the Phoenix area.
Throughout most of his career, Curtis created paintings that were categorized as belonging to the Surrealist or Magic Realist movements, though he reportedly disdained such labels. He died on November 12, 2000. Today, his work can be found in the Smithsonian's American Art Museum, the Phoenix Art Museum, and in numerous art museums and private collections around the nation.