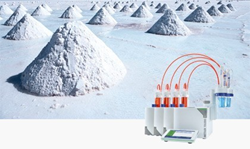 Sample preparation and sodium content measurement can be fully automated using METTLER TOLEDO's new Excellence titrators, together with the InMotion™ autosampler.
Schwerzenbach, Switzerland (PRWEB) March 27, 2017
Sodium determination is consistently becoming more important for the food industry. Conventional sodium testing methods are complicated and require expert user knowledge. In a live webinar on April 11th and October 3rd, METTLER TOLEDO presents a new analytical method dedicated to the simplified, yet highly accurate, determination of sodium.
It has long been known that too much sodium in the diet can be harmful to a person's health. It is linked to hypertension, cardiovascular disease, and stroke. The pressure continues for food manufacturers to accurately determine, and subsequently reduce, the sodium content in their food products and to provide correct labeling. Accurate and efficient sodium determination is therefore of high importance to food producers.
Conventional Sodium Determination Techniques
Conventional techniques for direct sodium determination, like Atomic Absorption Spectroscopy (AAS), Inductively Coupled Plasma Emission Spectroscopy (ICP), and Ion Chromatography (IC), require external calibration and elaborate sample preparation. Investment in mostly large devices is relatively high in comparison to other analytical equipment, and in-depth knowledge of operation is essential. Food companies often have to rely on external research labs, prolonging and complicating the entire quality control process.
Multiple Standard Addition Technique
Sodium determination using the multiple standard addition technique is performed by ion-selective sensors. As the membrane potential cannot be observed directly, the potential of the ion-selective electrode (ISE) half-cell is measured against a reference sensor.
Advantages
Multiple standard addition is a powerful analytical technique with many advantages, including:

The ion-selective electrode does not need to be calibrated, as the slope of the measurements can be evaluated during the multiple standard addition measurement itself.
There is a low risk of other components in the sample solution distorting the analyte's signal.
Sample preparation for the method is straightforward and rapid without long-lasting procedures.
The analysis can be performed even by low-skilled operators.
The multiple standard addition generates very accurate and repeatable results, comparable to the conventional analytical techniques.
Furthermore, sample preparation and sodium content measurement can be fully automated using METTLER TOLEDO's new Excellence titrators together with the InMotion™ autosampler.
Find out more about our titration solutions, register to watch the Live Webinar, or contact a local sales representative for more information.
About METTLER TOLEDO
METTLER TOLEDO is a leading global supplier of precision instruments and services. The Company is the world's largest manufacturer and marketer of weighing instruments for use in laboratory, industrial and food retailing applications. METTLER TOLEDO also holds top-three market positions in several related analytical instruments and is a leading provider of automated chemistry systems used in drug and chemical compound discovery and development. In addition, the Company is the world's largest manufacturer and marketer of metal detection and other end-of-line inspection systems used in production and packaging and holds a leading position in certain process analytics applications. Additional information about METTLER TOLEDO can be found at http://www.mt.com.