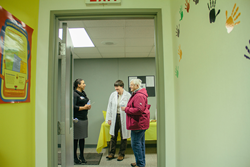 CONCORD, Mich. (PRWEB) February 01, 2017
Spring Arbor University's School of Human Services is honored to announce its partnership with Concord Community Schools and residents of Concord, Michigan, in the opening of the brand new Concord Schools Linked Health Center. The clinic has been formed in response to a shortage of medical care available to children on the west side of Jackson County.
For children and young adults up to the age of 21, the center provides wellness checkups, illness care, sports physicals and support for other medical needs. For all residents of western Jackson County, the clinic offers mental health services such as individual and group sessions for bullying, eating disorders, blended families, smoking addictions, healthy lifestyles and more.
Spring Arbor University students earning their master's degrees will complete supervised clinicals at the center. This arrangement will aid in the conservation of funds, while also providing practical field experience for the students. The SAU programs involved include the Master of Arts in Counseling program, the Master of Social Work program and the Master of Science in Nursing (Nurse Practitioner) program.
As of January 30, the center is now open. Its current hours are 8 a.m. to 5 p.m. on Mondays, Tuesdays and Thursdays, with the hope of expanded hours when the necessary funds are available.
The Concord Schools Linked Health Center will not turn anyone away, understanding that western Jackson County has above-average rates of unemployment, underemployment and single-parent households for Michigan. The opening of the center was enabled by two grants, but fundraisers will be needed to support programming, expand hours and demonstrate to funders the community's support.
The clinic is located at 203 Main St., Concord, MI 49237.