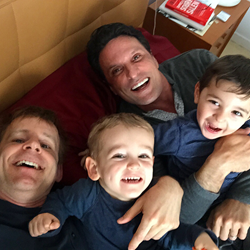 "Google was littered with links to agencies that demanded money just to pick up the phone. You'd think I was stealing state secrets just to get basic information."
(PRWEB) February 01, 2017
When Bill Houghton and Jose Gomez were considering starting a family, they struggled to find even basic information. They spent months poring through Google search results and wringing information from doctors that seemed more like salesmen. "Google was littered with links to agencies that demanded money just to pick up the phone. You'd think I was stealing state secrets just to get basic information, like how to find a surrogate or what legal documents I would need to bring my baby back home," says Houghton.
Houghton is now the father of two children born through gestational surrogacy. He is also the founder of Sensible Surrogacy – an online consultancy that helps childless couples navigate the complicated surrogacy process at no cost.
Today Sensible Surrogacy announces an additional resource for childless couples considering gestational surrogacy -- the "Surrogacy Costs Guide". The new resource joins an already-comprehensive series of Guides that span every aspect of the surrogacy process.
The entire archive is called the "Sensible Surrogacy Guide" and is available at http://SensibleSurrogacy.com. This latest section includes a detailed explanation of the costs associated with surrogacy procedures. In total, the updated Guide now resolves any confusion for childless couples considering surrogacy as an alternative to infertility.
"There was more to learn than I ever realized, and I found my way through a combination of hard work and dumb luck. So I promised myself to help any couple who were interested in surrogacy, at no cost, with absolutely honest and complete information on how they can start their own families. Sensible Surrogacy started doing that in 2102. Now I'm working with clients on 5 continents, and have relationships with clinics in six countries"
The complete "Surrogacy Costs Guide" includes articles on the comparative costs of surrogacy in countries around the world, including Kiev, Kenya, Canada, Cambodia and the United States. It even examines new program alternatives in the United Sates that can reduce intended parents' surrogacy cost by almost 50%.
An additional feature, the new resource includes a regularly-updated news feed of events and developments that may impact infertile couples' surrogacy costs – both financially and personally.
"Sensible Surrogacy Costs" resource now joins related online resources within the Guide, including:

"How Surrogacy Works"
"Surrogacy Programs Step-by-Step"
"Understanding Surrogacy Success Rates"
"Legal Surrogacy Frameworks" in countries worldwide
"Same-sex Intended Parents" considering surrogacy.
All these resources combine to make the Sensible Surrogacy Guide a must-visit online resource for couples considering surrogacy programs.
According to the Guide: Surrogacy programs overseas can cost as little as $40,000 for programs in developing countries like Cambodia or Kenya. While programs in developed countries like the Canada or the United Kingdom have a total price tag of about $80,000 USD. Meanwhile traditional surrogacy costs in the United States reach as high as $140,000.
The new resource also offers insights into innovative program options that may reduce costs, including newer North American programs available for as little as $74,000.
The Sensible Surrogacy Cost guide is also indexed to the rest of the Surrogacy Guide, providing a view of the legal and cultural framework in each of these destinations. The "How Surrogacy Works" resource lets couples fully understand exactly how to manage their surrogacy costs, reduce their risks, and improve their likelihood of bringing home a healthy baby.
"Our new families are filled with love! That's the Sensible Surrogacy motto, and that's our fundamental goal," said Houghton. "We want all couples to realize their dreams of a happy family. Whether children are born via ART procedures in the United States or gestational surrogacy in Ukraine, we are advocates for gestational surrogacy worldwide, and for the families that benefit from this important fertility treatment."