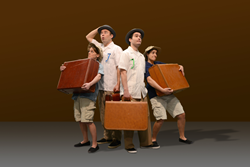 Salt Lake City, Utah (PRWEB) February 02, 2017
Salt Lake Community College's Grand Theatre, as part of its Backstage at the Grand series, will produce a professional production of William Shakespeare's Comedy of Errors Feb. 3 – 25. Jamie Rocha Allan, who worked at London's Globe Theatre, will be directing this production, which is the first Shakespeare play produced by the Grand Theatre.
The Comedy of Errors tells the story of two sets of identical twins who were accidentally separated at birth. Antipholus and Dromio of Syracuse, arrive in Ephesus, which turns out to be the home of their twin brothers. When they encounter the friends and families of their twins, a series of wild mishaps based on mistaken identities issues. The hysterical Comedy of Errors is one of Shakespeare's early plays, and it is the Bard's shortest and one of his most farcical comedies.
Tickets are on sale now at http://www.thegrandtheatrecompany.com. Backstage at the Grand productions provide a more intimate setting, with seating on stage that puts viewers close to the actors and entertainers.
The landmark Grand Theatre is a 1,100-seat venue located at Salt Lake Community College's historic South City Campus, home of the innovative and state-of-the-industry Center for Arts & Media at 1575 South State Street in Salt Lake City. The theatre dates back to the 1930s when it was part of South High School, which SLCC purchased in 1989, a year after the school closed. The Grand Theatre began offering productions that year and has since with great care and expense retained its Depression-era charm and attraction while also incorporating the latest technology in lighting and sound. The theatre is also an official screening venue for the annual Sundance Film Festival. Every season the Grand is host to award-winning theatre and dance productions and concerts that attract arts enthusiasts from all along the Wasatch Front.