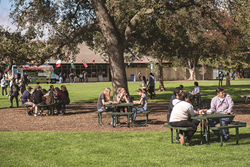 ...a plethora of good reasons to feel safe on campus...
Atherton, CA (PRWEB) February 01, 2017
Universities.com recently ranked Menlo College first in California, and fourth in the nation as the safest college campus in America. Established in 1996, Universities.com is an online search site that provides information and rankings about colleges and universities for the college selection process. In their 2017 rankings, Menlo College received national recognition with these top scores.
The report praised Menlo College's campus security for around-the-clock work to make Menlo College one of the safest colleges in America. The review stated that the small private college's low crime rates and location in Atherton, CA offers a "plethora of good reasons to feel safe on campus."
Menlo College was commended for their own LiveSafe mobile safety app. Students and staff can download the app to their Android or Apple smartphones for a quick and easy way to communicate with campus security. An exceptional feature of the app is the ability to send reports to security with GPS location tags, photos, video, and audio. Security personnel can easily send mass emergency alerts and safety tips to everyone who has downloaded the app.
Other safety measures at Menlo College include a Campus Watch Program, similar to neighborhood watch programs, aimed at encouraging the entire campus community to take part in keeping one another safe. The school also hosts annual prevention programs on various safety issues, such as sexual assault and alcohol awareness.
Founded in 1927, Menlo College is a small private four-year college that focuses on the art of business for an entrepreneurial society. A residential college in the heart of Silicon Valley just outside San Francisco, Menlo College offers degrees in business and psychology. Our students come from all over the world to learn leadership, critical thinking, creativity, team building, communication, and the science of behavior. We take advantage of the strong innovative community around us and require an internship which may be taken at one of the many companies and incubators with which we have partnerships. We are proud of our intimate and engaged student community fueled by our spirited and competitive athletics program.