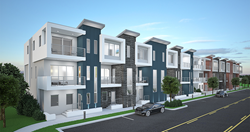 We specialize in developing attractively designed townhomes in centrally located, highly sought-after areas
Orlando, FL (PRWEB) July 31, 2017
ICON Residential will be opening their model unit for SoDo Place, located south of downtown Orlando, near the SoDo Shopping Center. SoDo Place will offer a 23 unit, urban townhome community with units ranging from 1,900 square feet to 2,000 square feet in three attractively designed floorplans.
SoDo Place features concrete block insulated construction, large windows, high ceilings, and private balconies. Residents will have their choice of designer finishes and high-end appliances to suit their needs and styles throughout the community. Due to its location just outside of the downtown, residents will be isolated from the hustle and bustle of the downtown core, while having the city-living experience with easy access to many convenient urban amenities. Becky Carey with Crestview Realty is the exclusive agent selling the homes and the sales office will be located at address 720 E Colonial Dr. Orlando, FL 32803.
Downtown Orlando is at your doorstep with countless things to explore in this rapidly growing city. It is rapidly becoming a pedestrian-friendly neighborhood where residents will have access to a multitude of boutique shops, high-end restaurants, and cultural facilities. SoDo Place residents can also enjoy world famous theme parks and attractions with a quick drive south.
"We specialize in developing attractively designed townhomes in desirable locations across the Southeast US. Our goal is to offer a live-work-play environment for our residents in centrally located, highly sought-after areas," said ICON Residential Principal Mike Bednarski, a managing partner with the developer. Exclusive agent Becky Carey said, "we are getting a lot of buyers that have been craving a moderately priced but luxury housing product centrally located in the Orlando area."
About ICON Residential Development
Founded in Tampa, FL in 2009 by Principals Mike Bednarski, Ryan Studzinski and Peggy Tseung, ICON Residential is a real estate investment and development company, with a strong background in residential real estate investing, construction, brokerage and development.
ICON embraces New Urbanist design principles, such as accessibility to an active urban environment, and promotes the opportunity for a "live, work, play" lifestyle. The company's market approach is tailored to contemporary for-sale housing targeting middle income households and empty nesters in primarily the southeastern United States where it creates innovative and desirable custom solutions for infill, for-sale housing. ICON's portfolio contains a growing collection of boutique urban communities that showcase the company's innovative approach to architecture, design and planning. ICON Residential has offices in Tampa, Atlanta and New York. For more information, please visit http://www.iconresliving.com or email info(at)iconresliving(dot)com.