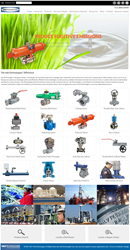 ValvTechnologies is excited about our new website launch and the robust information it provides for customers, prospects, partners and the media to better understand ValvTechnologies' best-in-class severe service technology.
Houston, TX (PRWEB) February 01, 2017
ValvTechnologies, the world's leading manufacturer of zero‐leakage, severe service isolation valve solutions, has launched a new website at http://www.valv.com that promises to provide visitors with the highest level of engineering, sales and service support in the industry.
This newly redesigned online presence provides quick-and-easy access to essential information and features, offering a more comprehensive understanding of ValvTechnologies' products and services. The website incorporates all-inclusive global distribution and authorized repair center selectors as well as updated company news and events, case studies, technical product information, quality and certifications, videos and much more.
According to Julie Bodine, Director of Global Marketing for ValvTechnologies, the company's revamped internet presence offers visitors around‐the‐clock access to service and quote requests, interactive presentations, brochure downloads and the customer satisfaction survey, as well as enhanced press room and social media features.
"ValvTechnologies is excited about our new website launch and the robust information it provides for customers, prospects, partners and the media to better understand ValvTechnologies' best-in-class severe service technology," Bodine said. "We believe that this new site will allow our visitors to have an enhanced experience as we continue to grow and increase our market presence."
As with any great website, http://www.valv.com will be constantly updated and evolving. "ValvTechnologies is committed to helping our customers meet their goals regarding safety, reliability, improved process and performance and the environment," Bodine added. "To do that well, they need 24/7 access to our technology and management expertise. The newly-designed site is an integral real‐time resource for anyone seeking information about ValvTechnologies and our products and services."