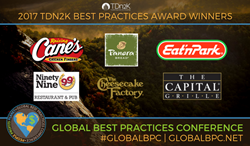 Dallas, Texas (PRWEB) January 31, 2017
TDn2K™ (Transforming Data into Knowledge), parent company of People Report™, Black Box Intelligence™ and White Box Social Intelligence™, announced the winners of the 2017 Best Practices Awards today at the 22nd annual Global Best Practices Conference in Dallas, Texas. The Best Practices Awards are designed to recognize consistently superior performance and results among the hundreds of companies tracked by TDn2K. These awards honor restaurant organizations for workplace excellence in their specific segment of the restaurant industry.
The 2017 award winners are: The Capital Grille, The Cheesecake Factory, Eat'n Park Restaurants, Ninety Nine Restaurants, Panera Bread and Raising Cane's Chicken Fingers. These companies were evaluated based on their results in hourly and management retention, compensation, diversity, year-over-year improvement and initiatives in the areas of community involvement and sustainability.
"These winners represent the pinnacle of the hundreds of brands that we measure and study each year. They are individual and collective proof that even in a challenging marketplace and labor market, leadership matters. These companies are clearly demonstrating the connection between people and profits," said Joni Thomas Doolin, Founder & CEO of TDn2K.
Karen Bolden, SVP and CPO at Eat'n Park Hospitality Group said, "At the heart of our family-owned company are more than 5,000 team members and operators. Their passion and commitment to our community and to providing outstanding service makes our guests smile and ultimately drives our success. At Eat'n Park, we really care about people – it's that simple. We're extremely honored and humbled to be recognized as a 2017 Best Practices Award winner."
Best Practices Award nominees were also recognized for their outstanding results. 2016 nominees included: Boston Market, Dave & Buster's, Del Frisco's Double Eagle Steak House, Del Taco, Denny's, Donatos Pizza, Fogo de Chão, LongHorn Steakhouse, Maggiano's Little Italy, Olive Garden, Panda Express, Red Lobster and Silver Diner.
In addition to these honors, TDn2K also presented the third annual Diamond Catalyst Award, the Heart of the Workplace Award and the Workplace Legacy Award.
The Diamond Catalyst Award is a tribute to superior operational and workplace results. The winner of the 2017 award is Olive Garden. Eligible companies are members of both People Report and Black Box Intelligence and are evaluated based on sales and traffic performance as well as employment and people practices. The recipient of this award sets the standard for overall best in class business performance. The Diamond Catalyst was presented for the first time in 2013 to The Cheesecake Factory, to White Castle in 2015 and to Dave and Buster's in 2016.
The Heart of the Workplace award is presented to the company that demonstrates significant commitment to and investment in their employees and communities. This year, it was awarded to Red Lobster.
"Red Lobster was founded on the belief that our people are our greatest competitive advantage. Our more than 57,000 team members are the true 'Heart of our Workplace,' and we are very proud of the difference they make within our restaurants and our communities. We are truly grateful to TDn2K for this recognition," said Tom Gathers, Executive Vice President and Chief People Officer at Red Lobster.
The 2016 Workplace Legacy Award was presented to Steve Carley, Immediate Past CEO of Red Robin. The Workplace Legacy Award honors a leader in the restaurant industry who has clearly demonstrated a commitment to balancing people and profits. Their employees, organizations and communities have benefited from their leadership.
"I am honored and humbled to receive the Workplace Legacy Award. What has always driven my enthusiasm for this business is the people. Playing a role in making others successful in their career journeys, one person at a time, is my definition of making a positive difference in the world," said Carley.
About GBPC
The Global Best Practices conference, now in it's 22nd year, is produced by TDn2K™. Held in Dallas, Texas, this event is a gathering of hundreds of restaurant industry c-suite leadership brought together to tackle some of the most challenging obstacles facing the restaurant industry. The event is also the home of the Best Practice Awards, Diamond Catalyst Award, Heart of the Workplace Award and the Workplace Legacy Award presentations. Dates for the 2018 Global Best Practices Conference are January 28 - 30th at the Hilton Granite Park in Plano, Texas. More at http://www.globalbpc.net.
About TDn2K
TDn2K™ (Transforming Data into Knowledge) is the parent company of People Report™, Black Box Intelligence™ and White Box Social Intelligence™. People Report provides service-sector human capital and workforce analytics for its members on a monthly basis. Black Box Intelligence provides weekly financial and market level data for the restaurant industry. White Box Social Intelligence delivers consumer insights and reveals online brand health. TDn2K membership represents 37,000 restaurant units, over 2.1 million employees and $65 billion in sales. They are also the producers of leading restaurant industry events including the Global Best Practices Conference held annually each January in Dallas, Texas.