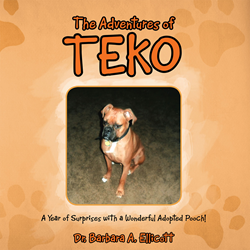 Morristown, NJ (PRWEB) February 06, 2017
A Morristown-based author has released a book detailing her experiences of adopting and rescuing her dog, Teko. Barbara Ellicott's new novel, "The Adventures of Teko" encourages readers to see how important it is to adopt an animal, as well as the plethora of benefits that come with adopting.
After the untimely passing of her Bull-mastiff, Andrew, Barbara knew she needed another dog. While Andrew could not be replaced, Barbara felt the need to get a dog almost instantly. It was then, during her search, she met a boxer originally named TKO.
"For days that followed Andrew's death, I searched several shelters for a dog," said Ellicott. "As soon as I was about to leave one shelter, I noticed Teko (then named TKO). We fell in love at first sight." Ellicott took TKO, now named Teko, home that same day and the pair has been inseparable since.
'Adventures' highlights special moments Ellicott has shared with Teko. From playdates in the park to Teko getting carried away in the confines of her home, Ellicott is confident in knowing she made the right choice in adopting Teko and encourages people to do the same.
"It is my hope that children reading this book, as well as their parents, will be persuaded to adopt dogs from shelters," said Ellicott. "The benefits are endless."
For more information, please visit http://drbarbaraellicott.com/.
"The Adventures of Teko"
By Dr. Barbara Ellicott
ISBN: 978-1-48970-862-5 (softcover); 978-1-78970-861-8
Available at the LifeRich, Amazon, Kobo and Barnes & Noble
About the author
Dr. Barbara A. Ellicott is a speech-language pathologist and is certified as a teach of psychology. She is a member and National Ambassador for Committee for Responsible Medicine. Additionally, Dr. Ellicott is a member of People for the Ethical Treatment of Animals and is a marathoner and triathlete.
###
Review Copies & Interview Requests:
LAVIDGE – Phoenix
Chris Peña
480-998-2600 x 519
cpena(at)lavidge(dot)com
General Inquiries:
LAVIDGE – Phoenix
Bryan Beach
480-998-2600 x 510
bbeach(at)lavidge(dot)com