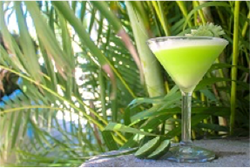 Puerto Vallarta, Mexico (PRWEB) February 01, 2017
Travelers don't need to be in Mexico this February 22 to celebrate National Margarita Day as Mexico's Velas Resorts is sharing some of its tastiest specialty margaritas. While the cocktail was invented in Mexico in 1937 consisting only of triple sec, tequila and lime or lemon juice, Velas Resorts has several variations, including Smoky Guajillo rimmed with chappuline (grasshopper) salt, Red Fruit, Cilantro, and even one made with Xtabentun Mayan liquor. To celebrate this ode to Mexico's most famous cocktail, Velas Resorts in Los Cabos, Puerto Vallarta, Riviera Maya and Riviera Nayarit have gathered a margarita recipe from each of its locations for those to enjoy at home.
Cilantro Margarita at Casa Velas
1.5 oz Tequila
1 oz Triple Sec or Cointreau
3 oz Lime or Lemon Zest
1 T Cilantro, minced
Smoky Guajillo Rita – Grand Velas Los Cabos
1.5 oz Smoked white tequila
½ oz Triple Sec or Cointreau
3 Grapefruit slices
½ oz Sprig of rosemary
½ oz Yellow lemon juice
½ oz Simple syrup infused w/ Guajillo chili
1 tsp chappuline salt (grasshoppers roasted with chili, salt and lime and ground)
Margarita Maya – Grand Velas Riviera Maya
1.5 oz Tequila
½ oz Triple Sec or Cointreau
½ oz Xtabentun
½ oz Lemon juice
1/3 oz Simple syrup
Cucumber & Habanero Chili Margarita – Velas Vallarta
2 oz Tequila
1 oz Cointreau
½ oz Simple syrup
½ Cucumber
½ Habanero Chili
2 T lime juice
Traditional Margarita at Grand Velas Riviera Nayarit
1.5 oz Tequila
1 oz Triple Sec or Cointreau
1 oz Lemon juice
Dash Salt
Directions:
Place three to four ice cubes in a cocktail shaker along with recipe ingredients. Blend or shake until frosty. Rim the glass with lime and salt. Top with the margarita mixture and decorate with a slice of lime and a short straw.
For more information on Velas Resorts, please call 1-888-407-4869 or visit http://www.velasresorts.com.
About Velas Resorts:
Offering unparalleled all-inclusive experiences, Velas Resorts in Riviera Maya, Puerto Vallarta, Riviera Nayarit and (soon) Los Cabos have earned more than 43 AAA Diamonds, including the prestigious Five Diamond Award. Other esteemed international awards for their services and facilities include Virtuoso's "Best Spa," Conde Nast Johansens' "Most Excellent Resort" and "Most Excellent Spa Hotel" and the American Academy of Hospitality Sciences' 5 Star Diamond Award. Properties include Casa Velas, a boutique adults-only hotel and ocean club located on the Marina Vallarta Golf Course, and Velas Vallarta a family-friendly all suites resort and spa located on Banderas Bay, both in Puerto Vallarta; the AAA Five Diamond Grand Velas Riviera Nayarit and Grand Velas Riviera Maya, located five minutes from Playa del Carmen, offering the most sophisticated, ultra luxury all-inclusive resort experience in the Caribbean with jungle and beach settings. Opening December 20, Grand Velas Los Cabos on Mexico's Baja Peninsula will offer the next generation of all-inclusive amenities and facilities with dramatic ocean views and unique spaces infusing every area of the resort. Velas Resorts feature spacious accommodations, spas, a unique culinary experience at a selection of restaurants, 24-hour insuite service, fitness centers, personal concierge service, state of the art conference centers, extensive family programs, fully stocked mini bar and more. Velas Resorts are operated by Eduardo Vela Ruiz, owner, founder and president of Velas Resorts with brother Juan Vela by his side, vice president of Velas Resorts.
# # #