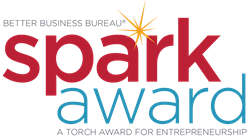 Columbus, OH (PRWEB) February 01, 2017
Better Business Bureau (BBB) and its Center for Character Ethics announces that entries and nominations for the 2017 Spark Awards – a Torch Award for Entrepreneurship are now being accepted.
The Spark Awards is a BBB recognition award in partnership with BBB's Center for Character Ethics and CivicHacks, which will recognize millennial entrepreneurial organizations whose leaders demonstrate a higher level of character, generate a culture that is authentic, and connect with their community.
In coordination with the Torch Awards for Ethics TRUST! Principles, the Spark Awards will involve three key categories: character, culture and community. The Spark Awards will be presented to the three finalists in the 2017 Spark Awards Class during CivicHacks's Startup Storytellers event at the Columbus Museum of Art on April 19th. The 2017 Spark Awards Class and this year's finalists will be honored that evening, will be involved with telling their stories during simultaneous BBB, Center and CivicHacks events throughout the year, and will be recognized at the 2017 Torch Awards event in the fall.
For award criteria, to apply or nominate a business, please visit bbbsparkaward.com.
For more information and details, follow BBB on Facebook or Twitter.
About BBB
Since 1912, Better Business Bureau has been helping people find businesses, brands and charities they can trust. In 2015, people turned to BBB more than 172 million times for BBB Business Reviews on more than 5.3 million businesses and Charity Reports on 11,000 charities, all available for free at bbb.org. BBB serving Central Ohio was founded in 1921, and serving 21 counties in Ohio, is one of 113 local, independent BBBs in the United States, Canada and Mexico.
About BBB Center for Character Ethics
BBB's Center for Character Ethics is a business-supported, free-enterprise advancing non-profit organization focused on serving business managers & classroom educators with leadership character and organizational ethics strengthening resources. Our mission is to provide character ethics assessment, training and recognition to for-profit and non-profit leaders and to provide k-16 educator-focused character strengthening programs. As a result, we intend to help both producers and consumers flourish in central Ohio.
About CivicHacks
Inspired by a love of public service, CivicHacks was created as a for-profit, for-purpose business, a demonstration of compassionate capitalism. With the knowledge that more social entrepreneurs and businesses want to join this movement, the goal was established to help them do that. Along with bringing people together through memorable experiences and good intentions, CivicHacks started working to help its partners solve their most pressing communication challenges.