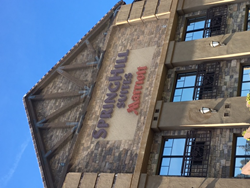 Irvine, CA (PRWEB) February 02, 2017
Coming to the aid of a hotel in Temecula, California, the leader in professional grade bird control products for commercial, industrial and residential applications provided its time-tested Heavy Duty Bird Netting to address a pest bird problem.
Springhill Hotel in Temecula was having a problem with black crows. The birds, gathering in large numbers, were building nests, leaving droppings on and around the hotel, and creating considerable noise, which disturbed hotel guests. The hotel's owner enlisted the help of Zenon Vargas of Vargas Ultimate Landscaping to install Bird B Gone's Heavy Duty Bird Netting to address and solve the crow problem.
A man lift was needed to properly and safely install the 50' x 25' Heavy Duty Bird Netting over the hotel's façade, which rose to a height of 80 feet. Once installed, the stone colored netting was virtually invisible.
Bird B Gone's high-density, flame resistant (270°F melting point) polyethylene knotted netting satisfied the rigorous demands of this venue. Rot-proof, non-conductive and stable in sub-zero temperatures, the netting is comprised of 12 monofilaments, each 12/1000" thick with U.V. stabilizers added. The monofilaments, twisted together to produce a strong twine with 410-430 twists per meter, are ISO 1806 protocol mesh tested in excess of 116 lbs.
The bird netting solved the issues the hotel had with black crows and blended aesthetically with the hotel's color scheme. The hotel's owner even asked the installer, Zenon Vargas, to install 10 more gables of netting at the same hotel. The installer had been using Bird B Gone for over 8 years. He was very pleased with the product and will continue to use it for future installations.
Bird B Gone is the world's largest manufacturer and distributor of bird control products, providing effective and humane solutions to a bird-free environment. The company provides advice; training and installation services for those who need help with these and other bird control measures. For the complete line of products from Bird B Gone, call 1-800-392-6915; fax: 949-472-3116 or visit our website at http://www.birdbgone.com, e-mail: nobirds(at)birdbgone(dot)com.