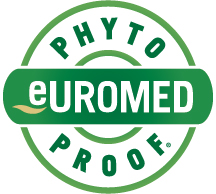 Euromed's heritage is creating extracts that are used as medicines in Europe. Our new PhytoProof seal visually guarantees that consumers in the US and globally can easily identify products delivering the health benefits they're seeking.
(PRWEB) February 01, 2017
A new published study delivers promise for everyone concerned about heart health. According to the Center for Disease Control (CDC), heart disease is the leading cause of death in the US for both men and women. People of all ages and backgrounds can get the condition; approximately 610,000 people die of heart disease in the US every year – that's one in every four deaths.
Last year, the natural health industry saw a significant increase in scrutiny from consumers, the media, and from those within the industry itself. Now, more than ever, it is critical for consumers and manufacturers alike to use only ingredients that have been scientifically proven to work in published studies. This study highlights that the key factor in obtaining true health benefits from olive oil is the presence of a significant amount of the polyphenol, hydroxytryrosol. Euromed's branded SOFE –Proliva® --contains 20% hydroxytyrosol as measured by HPLC ( High Performance Liquid Chromatography).
Not All Olive Oils Are Created Equal: European vs. US
Mediterranean populations have been extensively studied and found statistically to have lower levels of heart disease, even though their diet contains higher levels of dietary fat. But this daily intake of high levels of olive oil and olive fruit is believed to provide a protective effect against coronary heart disease due to the variety of phytochemicals, including polyphenols, they contain. The typical Mediterranean diet in Southern Europe provides a level of 5 to 10 milligrams of olive antioxidant polyphenols per day, with one of the most abundant polyphenols in olive oil being hydroxytyrosol.
Extra virgin olive oil (EVOO) is rich in hydroxytyrosol; yet it's been reported that as much as 75-80% of EVOO in the US does not meet the European legal grade for EVOO. The UC Davis Olive Center in 2011 surveyed best-selling EVOOs on California store shelves and found they often failed sensory standards for EVOO. The oils were found to be oxidized, adulterated with cheaper refined oils, and contained poor quality oils due to poor processing and/ or improper storage. Therefore, health conscious consumers trying to incorporate olive oil into their diet may not be obtaining key olive oil components for a protective effect on heart health due to the low quality of oil available to them.
Today, a dietary supplement containing Proliva® SOFE will provide a level of hydroxytyrosol found in EVOO. This new study on Proliva® is the second clinical study showing a benefit for cardiovascular health and while more research is warranted, improved vessel elasticity and a reduction in triglycerides are benefits consumers can expect. "Proliva offers profound health benefits for consumers globally, particularly those unable to access quality EVOO in their diet," stated Pilar Pais Ph.D., Technical Director of Euromed SA, located near Barcelona, Spain.
Science Tells the Story
The study is entitled: "Impact of a Proprietary Standardized Olive Fruit Extract (SOFE) on Cardio-Ankle Vascular Index, Visual Analog Scale and C-Reactive Protein Assessments in Subjects with Arterial Stiffness Risk." The key findings from this human clinical trial are:
~ Proliva® was shown to improve blood vessel elasticity, and none was found in the placebo group;
~ Proliva® also demonstrated a reduction in serum triglycerides taking 500 mg per day;
~ Arterial stiffness is an important cardiovascular risk factor, assessed by CAVI (Cardio-Ankle Vascular Index) ... Proliva shows an ability to decrease the CAVI index which suggests that increasing C-HDL and lowering triglycerides with SOFE could potentially reduce patients' risk of developing atherosclerosis.
The link to see the entire study, complete with 56 references, is: https://www.ncbi.nlm.nih.gov/pubmed/27798770
Proliva®: The latest in Euromed's PhytoProof® Line of Standardized Botanical Extract Ingredients
Euromed has created a proprietary PhytoProof® process – designated by its unique seal – to ensure consumer confidence that the ingredient found on product labels displaying this seal has undergone rigorous quality control. This includes authenticity and traceability as each production batch undergoes more than 20 laboratory tests from "field-to-finished extract."
These laboratory test results are proof that each botanical extract batch is made correctly and in conformance with all the US FDA GMP requirements for identity, purity, composition, and strength. Manufacturers who include Euromed's ingredients, and consumers who ingest them, are assured that they are getting the correct species, with NO adulteration and NO contamination by heavy metals, pesticides, aflatoxins, or other microbes – AND with the correct plant chemistry that assures the product will work safely and effectively.
Guy Woodman, General Manager of Euromed USA, states "Our heritage is making extracts that are used as medicines in Europe. We developed the PhtyoProof® seal so that consumers in the US and globally could easily identify products delivering the health benefits they are seeking."
ABOUT EUROMED
Euromed supplies standardized botanical and herbal extracts and natural active substances for use in the dietary supplement, pharmaceutical, and cosmetics industries. By concentrating phytochemicals nature has provided, the company can guarantee that each batch of its extracts meets the same profile documented in clinical studies to be safe and effective. Euromed was founded 45 years ago; the company was recently acquired by The Riverside Company, with its US offices located in Presto, Pennsylvania. For additional information about Euromed's extracts, call 877-696-3960 or email BeSure@EuromedUSA.com and visit http://www.EuromedUSA.com.