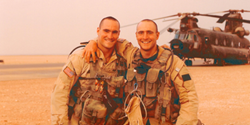 Chicago, IL (PRWEB) February 01, 2017
The Pat Tillman Foundation is pleased to announce the opening of the annual application process for the Tillman Scholars program for eligible active-duty service members, veterans and military spouses. The application to join the 2017 Class of Tillman Scholars will remain open until Wednesday, March 1, 2017 at 11:59pm PT. For specific details on eligibility and to apply online, please visit: http://pattillmanfoundation.org/apply
"No matter where you stand, we can all agree it is fiercely evident that leadership matters," said Marie Tillman, President and co-Founder of the Pat Tillman Foundation. "As a new generation of leaders, the Tillman Scholars are tackling global issues to strengthen communities at home and around the world. In the spirit of Pat's legacy, we're committed to empowering more veterans and military spouses so they realize their potential as our country's next doctors, policymakers, scientists, entrepreneurs, teachers and artists."
The selection process for the Tillman Scholars program is highly competitive with up to 60 Tillman Scholars chosen annually. For the current selection cycle, applicants will receive notification of selection results no later than May 2017. Scholarships will be granted for the 2017-2018 academic year and are eligible for renewal. To explore the profiles of current Tillman Scholars and learn about their impact, visit: http://pattillmanfoundation.org/scholars
ELIGIBILITY AND REQUIREMENTS
Founded in 2008, the Tillman Scholars program supports our nation's active-duty service members, veterans and military spouses by investing in academic scholarships. The program covers direct study-related expenses, including tuition and fees, living expenses, and books for scholars who are pursuing undergraduate, graduate or professional degrees as a full-time student at a public or private, U.S.-based accredited institution.
Scholars demonstrate extraordinary academic and leadership potential, a track record of perseverance, and a deep desire to impact change in our country and communities through their studies in medicine, law, business, policy, technology, education and the arts. Overall, the Pat Tillman Foundation has invested over $14 million in academic support since 2004, and has named more than 450 Tillman Scholars at more than 100 academic institutions nationwide.
2017-2018 UNIVERSITY PARTNERS
Since 2008, the Pat Tillman Foundation has joined with higher education institutions as University Partners of the Tillman Scholar Program. These institutions offer strong veteran-specific services and a culture of support for military veterans and spouses while providing rigorous academic experiences. University Partners are established on an invitation-only basis, and help identify and select qualified Tillman Scholar candidates on their campus and help grow the Tillman Scholar community.
This year, the Pat Tillman Foundation welcomes Syracuse University to the University Partner community. "Syracuse University is truly honored to be chosen as a Pat Tillman Foundation University Partner. This is an incredible opportunity for our student veterans to continue to enrich their lives academically while becoming future leaders in our communities," said Syracuse University Vice Chancellor Mike Haynie.
Syracuse University joins the following 14 University Partner institutions: Arizona State University, Columbia University, Georgetown University, George Washington University, Indiana University, Texas A&M University, The Ohio State University, University of Arizona, University of Maryland, University of Minnesota, University of Missouri System, University of Oklahoma, University of South Florida, and University of California, Los Angeles. These partners demonstrate strong support for military veterans and spouses and are proud to support Tillman Scholars on their campuses.
If you are a member of the media who wishes to arrange an interview with Pat Tillman Foundation President and Co-Founder Marie Tillman or a Tillman Scholar, please contact Michelle McCarthy at (773) 598-4215, mmccarthy(at)pattillmanfoundation(dot)org.
ABOUT THE PAT TILLMAN FOUNDATION
In 2002, Pat Tillman proudly put his NFL career with the Arizona Cardinals on hold to serve his country. Family and friends established the Pat Tillman Foundation following Pat's death in April 2004 while serving with the 75th Ranger Regiment in Afghanistan. Created to honor Pat's legacy of leadership and service, the Pat Tillman Foundation invests in military veterans and their spouses through academic scholarships–building a diverse community of leaders committed to service to others. For more information on the Pat Tillman Foundation and the impact of the Tillman Scholars, visit http://www.PatTillmanFoundation.org.