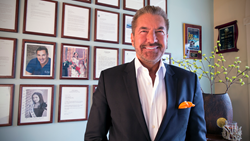 I am grateful that my colleagues chose to select me as their choice to send themselves, their families, and their patients to.
Ridgewood, NJ (PRWEB) February 02, 2017
Richard A. Norden, MD FACS of Norden Laser Eye Associates has been awarded the 2016 National Doctor's Choice Award in Ophthalmology, his second year in a row winning this award. The prestigious award is bestowed to a physician selected by other physicians. In order to be eligible to win, a doctor must go through the nomination process, which includes reviews and ratings by other physicians and peers. These reviews are vetted to ensure the credibility of the physician and the review itself. A winner in each category is chosen from each city, and they all compete for the national award.
"I am humbled to win this award," Dr, Norden said. "To be honored by your peers two years in a row is such a tremendous accomplishment. I am grateful that my colleagues chose to select me as their choice to send themselves, their families, and their patients to."
Dr. Norden has been performing LASIK surgery for more than two decades. Throughout his career he's performed LASIK on over 30,000 patients. He was the first doctor in Northern New Jersey to perform LASIK, and he trademarked Custom LASIK. He's contributed to the field of ophthalmology as well by training hundreds of doctors how to perform LASIK. He's also contributed to the ophthalmic literature regarding LASIK.
For more information about the award, you can visit Doctor's Choice Award's website (http://www.doctorschoiceawards.org/). You can learn more about Richard A. Norden, MD and Norden Laser Eye Associates at 1144 E Ridgewood Ave in Ridgewood, NJ by viewing their website (http://www.nordenlasik.com/about/).
About Norden Laser Eye Associates
Norden Laser Eye Associates was founded by Richard A. Norden MD, who has over 30 years of experience in vision correction, over 20 years of experience in performing LASIK and is one of the leading surgeons in the country (he is a founding member of the Refractive Surgery Alliance and a graduate of the first physician-CEO class at Kellogg [Northwestern]). Based in Ridgewood, NJ, Norden Laser Eye Associates offers LASIK, Custom LASIK, LASIK Monovision to get rid of reading glasses, and other eye procedures.
About GWP Inc.
GWP Inc., founded in 1991, is a full-service advertising agency in the heart of Montclair, NJ. And is known as "the best kept secret" amongst our clients with a focus in Rebranding, Rebuilding and Revitalizing businesses. Among our in-house capabilities, are online and traditional media planning and buying, video production, online marketing, TV, radio and print creative and production. GWP is a boutique agency with five divisions, working independently and/or in concert to deliver strategically sound, creatively crafted, targeted campaigns. For more information about GWP Inc., visit their website at http://gwpinc.com/ or call 973-746-0500.