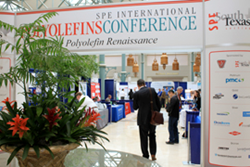 The Polyolefin Industry is BOOMING -- Nick Vafiadis, Senior Director, IHS
Houston, Texas (PRWEB) February 13, 2017
For more than 40 years, the SPE International Polyolefins Conference has provided a premier, value-packed event - a place for you to advance your knowledge, network with colleagues, and hear and learn about new technologies, ideas and industry trends. The conference will be at the Hilton Houston North Hotel in Houston, TX on Feb 26-Mar 1.
Featuring over 650 attendees, 60+ exhibitor booths, 80+ technical papers, 5 Plenary speakers, a Sunday afternoon tutorial, 2 networking socials, and an annual student poster competition. More than 60% of the profits from this conference go to support education. Currently eight Texas universities with polymer programs benefit.
The Tutorial on Sunday afternoon (Feb 26)
"Catalyst, Polymerization Processes, and Applications of Polyolefins" will feature the following speakers:
1- Polyethylene Catalysts and Polymerization Processes --Dr. Clifford Lee (Townsend)
2- Polypropylene Catalysts and Polymerization Processes -- Dr. C.P Cheng (Clariant)
3- Polyethylene Thermoforming --Dr. Michael Killough ( INEOS Olefins and Polyolefins)
4- Polyolefin Films --Pat Thomas ( PR Thomas Technologies, LLC)
Plenary Keynote talks on Monday morning (Feb 27):
1- New Era of Global Polyolefins: Supply Demand Dynamics for 2017 to 2021 and 2026 -- Roberto Ribeiro (Townsend Solutions)
2- Asian Polyolefin Market Trends and Strategic Moves -- Sungwoo Kwon (Hansha International)
3- Recent Trends in the North American Propylene and Polypropylene Market -- Anusha Kothandaraman (Braskem)
4- Creating Value Through Innovation: The LyondellBasell Approach -- Steve Davis (LyondellBasell)
5- Sabic SK Nexelen Company and the impact on the Polyethylene Industry -- Ethan Rafei (SABIC)
Technical papers (Monday afternoon-Wed morning) will cover:

Recent Advances in Catalysis
Additives in Polyolefins
New Computer Modeling Techniques: Process, Converting, & Products
Recent Process Developments
Elastomers and Automotive Applications
Innovations in Foams and Light-Weighting
Compounding and Extrusion
Advances in Polymer Analysis and Characterization
Polyolefins in Flexible Packaging
Food Contact Regulations
Innovation Strategies and Commercialization
Special Sessions on Wednesday Morning (March 1):
1- Food Contact Regulations
2- Innovations Strategies and Commercialization featuring Bill Higgs discussing how Mustang Engineering became a billion dollar company in 25 years with a unique company culture, innovation, and customer focus.
For more Information and to Register go to: