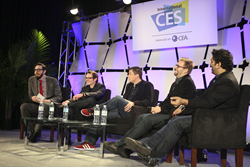 (PRWEB) January 31, 2017
The tech industry kicked off 2017 the right way, with CES celebrating its 50th year of highlighting technology that will change the future. A lot can change in 50 years of technology, something Innovation & Tech Today highlighted online by showcasing some of the biggest milestones from the event's history, including the debut of drones and a demonstration mishap involving Windows CEO Bill Gates. The magazine also previewed CES by examining major tech that first premiered in the event's past, such as VCRs, the Xbox, and even the short-lived Apple Pippin.
But while there was plenty of intriguing buildup to the event, it was the actual CES coverage that was the true highlight for Innovation & Tech Today. Their website featured plenty of interesting recaps from the event, such as a look at some of the best tech from the first media day and a review of fascinating new IoT products showcased at CES 2017. Additionally, writer John D. Ivanko relayed his experience in the driverless Hyundai Ioniq automated car as it drove through Las Vegas.
The event also provided I&T Today with a great amount of video content. In collaboration with online star Misty Kingma, the Innovation & Tech Today YouTube channel released plenty of interviews, such as conversations with Jasco CEO Cameron Trice, MMA fighter Justin Wren, and hip hop artist Akon.
Now that CES 2017 is in the rear view mirror, Innovation & Tech Today has plenty of plans for the future. While the winter issue has been a major success, the magazine is hard at work on the next edition, focusing more on the theme of sustainability. I&T Today will also be attending Denver's Cyber Security Summit on March 1, 2017. The event focuses on keeping information safe in a time when hacking has become so prevalent.